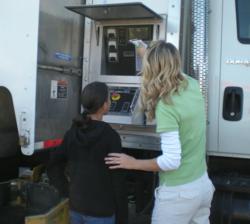 Helping individuals understand the value of their secure and private information is a key component of being a strong financial advocate
San Antonio, TX (PRWEB) March 07, 2012
The San Antonio College Empowerment Center and Generations Federal Credit Union will host a Community Shred Day from 9 a.m. to noon on Saturday, March 10 at the Empowerment Center located at 703 Howard Street. The event is free and open to the public.
Every year 15 million Americans are victims of identity theft, resulting in financial losses of nearly $50 billion dollars. To help combat these rising statistics, San Antonio College and Generations will provide a mobile shred unit to offer on-the-spot document destruction and paper recycling.
"Helping individuals understand the value of their secure and private information is a key component of being a strong financial advocate," said Kimberley Blohm, Student Brand Manager. "Through our great partnership with the San Antonio College Empowerment Center, we are providing an opportunity for the community to take that extra step to protect themselves and their financial future."
Generations will also be giving away a $50 gift card for Shred Day participants. To be eligible, simply visit the Generations website at http://www.mygenfcu.org, click on the Shred Day link and register to win.
Credit card receipts after their monthly statements arrive, paycheck stubs after the annual W-2 arrives, personal medical records, physician statements, insurance forms, mail, telephone bills, cancelled checks, credit union statements, and mailing labels from magazines are just a few of the items that San Antonians are encouraged to destroy. A document destruction truck will be on hand so individuals can watch their items shredded.
For additional information visit http://www.mygenfcu.org or call Generations at 210-229-1128.