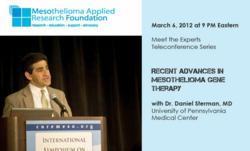 The recording of the call is available on the Meso Foundation's website, at www.curemeso.org/calls.
Washington, DC (PRWEB) March 07, 2012
Yesterday, the Mesothelioma Applied Research Foundation (Meso Foundation) organized and hosted a free teleconference call featuring Dr. Dan Sterman of the University of Pennsylvania Medical Center, who discussed the recent advances in mesothelioma gene therapy.
The call was attended by nearly 100 people interested in learning more about progress recently made in mesothelioma treatment. The recording of the call is available on the Meso Foundation's website, at http://www.curemeso.org/calls.
This call is part of Meso Foundation's "Meet the Experts" series, which was created to provide mesothelioma patients, their families, and others interested with the most up-to-date mesothelioma information. Previous calls have included an interview with Dr. Lee Krug of Memorial Sloan-Kettering about using vaccines and manipulations of the immune system to prevent a mesothelioma recurrence.
Mesothelioma is a malignant tumor of the lining of the lung, abdomen, or heart known to be caused by exposure to asbestos. Medical experts consider it one of the most aggressive and deadly of all cancers. Approximately 3,000 Americans are diagnosed with mesothelioma every year, but accurate treatment information and help are very difficult to find.
The Meso Foundation is the leading organization dedicated to eradicating mesothelioma as a life-ending cancer by funding peer-reviewed mesothelioma research, providing patient support services and education, and advocating Congress for increased federal funding for research. Mesothelioma funding, per death, has historically been extremely low, and even as recently as 2010, the NCI reported that mesothelioma receives as little as 7 times less funding than other cancers. The Meso Foundation was founded in 2000 to address this imbalance and since then has independently funded over $7.6 million in peer-reviewed mesothelioma research. More information is available at http://www.curemeso.org.
For more information about the topics discussed in the "Meet the Experts" series or for information about mesothelioma treatment, patients and their loved ones are encouraged to contact Mary Hesdorffer, NP at mhesdorffer(at)curemeso(dot)org or by phone at (703) 879-3820.