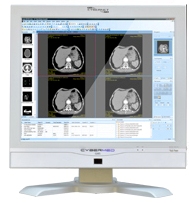 Irvine, CA (PRWEB) March 07, 2012
Cybernet Manufacturing just launched a fanless 19-inch medical computer, the CyberMed N19. It is powered by an Intel Cedarview D2700 processor, the latest generation of CPUs made for use in all-in-one PCs that provide a long battery life: 8 hours plus. That means that the CyberMed N19 can be used on a medical cart for a full day before needing recharging. It is also a medical grade PC, with an antimicrobial coating to maintain hygienic environments.
Cybernet has developed a full line of medical all-in-one PCs over the last few years, all with touch screens and antimicrobial coatings. Some models are also fanless. Their medical PCs are used in hospitals, clinics, nursing homes, and eldercare facilities across the United States.
The 19-inch CyberMed N19 is the latest in the CyberMed medical PC series, and follows the 15-inch CyberMed MP15T launched in 2011. According to Senior Vice-President Ali Bagheri, "After the successful introduction of our CyberMed MP15T, we decided to offer a model with a wider 19-inch screen for those health care customers who needed a larger viewing area for EMR data, x-rays, and lab results. We also chose to use Intel's new Cedarview D2700 processor that provides a longer battery life because many of our customers use our all-in-one PCs on medical carts. The resulting design fits the needs of our high-end medical "power users", who can rest assured that this fanless, antimicrobial PC can be used wherever they need it – OR, ER, or patient rooms."
The CyberMed N19 was made for medical facility use. It can be mounted on a wall or medical cart using standard VESA mounting holes. Its touch screen can accommodate gloved input. The fanless design means that dust and particulates are kept out of a hygienic environment. The CyberMed N19 also carries an EN60601-1 certification. To learn more or request a quote, visit the CyberMed N19 webpage.
About Cybernet
Cybernet Manufacturing is a global manufacturer of space saving, all-in-one PCs serving vertical markets such as health care, banking, government, and education. Cybernet is privately held, and is headquartered in Irvine, CA, with operations in Taiwan, China, and Europe. The company employs 400+ employees worldwide. Website: http://www.cybernetman.com