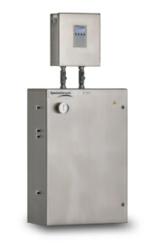 Houston, TX (PRWEB) March 08, 2012
SpectraSensors will be represented by Blount Analytical Sales and Services at the Process Analyzer Association's 2012 Show on March 22 in Gonzales, Louisiana. The show is comprised of over fifty vendors displaying their latest technology.
B.A.S.S. will showcase SpectraSensors' Trace Moisture TDL analyzer. Attendees can visit the B.A.S.S. booth to learn more about SpectraSensors' H2O and H2S analyzer systems for critical process control.
SpectraSensors will also be represented by Instrument TAGS at the Texas City Section ISA Trade Show in Texas City, Texas on March 22, 2012. ISA members can visit the Instrument TAGS booth to learn about SpectraSensors' process analyzers.
More information: http://www.spectrasensors.com
About SpectraSensors, Inc.
SpectraSensors is a leading manufacturer of optically based moisture analyzers and H2S analyzers for analytical process markets. SpectraSensors uses Tunable Diode Lasers Absorption Spectroscopy (TDLAS) in an array of products such as Ambient Air Monitoring Analyzers, Moisture Analyzers (Hygrometers) and Gas Analyzers for Natural Gas Pipelines and Processors, Petrochemical Refineries and Chemical Companies.
SpectraSensors Gas Analyzers measure: Moisture (H2O), Carbon Dioxide (CO2), Hydrogen Sulfide (H2S), Ammonia (NH3), Acetylene (C2H2), Oxygen (O2), Hydrocarbon Dewpoint and more.
###