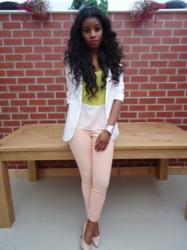 Style Compare's new Style Challenge shows exactly how savvy bloggers are when it comes to fashion.
(PRWEB UK) 7 March 2012
Leading fashion comparison website, Style Compare, has launched a new, monthly feature for 2012. Each month a select handful of influential fashion bloggers will be chosen to style a new trend their own unique way.
The Style Challenge launched on Monday March 5th 2012, when four bloggers exclusively reveal their take on pastel jeans at Style Compare:

Follow Me In 5 Inch Heels - goes glam in apricot
VIPXO - Victoria looks gorgeous in lilac
Girl In The Lens - Natasha keeps it simple and stylish in lemon
What Olivia Did – styles-up mint green
Designed to celebrate the influence of fashion bloggers and enhance the site's growing community of shoppers, bloggers, haulers and fashionistas, the Style Challenge is a visual, on-trend fashion treat.
Each month, five bloggers will be hand-picked to take part, receiving one key item of clothing, courtesy of Style Compare, and styling-it-up by adding elements of their own wardrobe.
The five different looks will appear on Style Compare, where readers can vote for their favourite interpretation of the trend. The winning blog takes away £100 to spend at Style Compare and a £25 voucher for one of their readers.
"We wanted to give bloggers a new platform to show off their talents as stylists," says Style Compare head of fashion, Johanna Payton. "Giving five of them the same trend to take-on produces incredibly diverse results, showing just how savvy fashion bloggers are when it comes to style."