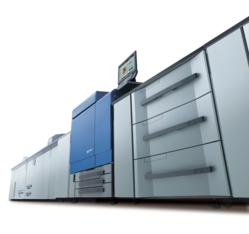 Bexleyheath, Kent (PRWEB UK) 9 March 2012
Marstan Press, the Kent based printing company, providing print services to organisations including charities, large corporates, public bodies and publishers has made a new investment in their digital print department following strong demand by customers. After exploring the market, a Konica c8000 digital printing press will be added to the existing Oce CS665, Xerox 7000AP and the two Xerox 8080s which were installed in October 2011.
When questioned about the reasons for making this investment just five months after the double Xerox 8080 purchase, director Martin Lett Jnr highlighted a number of reasons. Firstly was the continued growth of the digital print department. Lett Jnr said, "Customers require fast turnarounds and we were finding that on too many occasions the Xerox presses were awaiting engineers which really put pressure on our scheduling. As well as the corporate work we print, we are also experiencing pleasing growth on our personalised greeting cards and gifts website WinstonandHarry.com"
He continued, "Whilst the performance of the Xerox 8080s has improved since switching to Xerox digital paper and they do a great job on a large percentage of our print jobs, they have struggled to meet our quality expectations on the really high quality work. We expect the Konica c8000 to give us superior quality especially when printing solids, as well as giving us greater scheduling flexibility."
Another driving force behind the investment is the changing tax allowances rules which change in March 2012. The Konica c8000 will shortly be followed by further investments in 'higher end' finishing equipment to keep up with the printing press investments. This in turn will create new apprentice positions within the company.
Up until now the company has relied on the OCE CS665 (a re-badged Konica Bizhub 65) to tackle much of the quality work, although as it is not a full production machine it does struggle on lighter weight stocks and longer runs.
The new Konica c8000 digital press has been specified with the humidification de-curler unit, a high capacity input and output stacker as well as the Premium Graphic Arts package which will aid colour management on the machine. The Konica prints at a 1200 x 1200dpi x 8bit full colour resolution with smoothing and its low temperature fixing and third-generation Simitri® HD+ polymerised toner all combine to give first class results as seen in Marstan's testing. The Konica was chosen ahead of a Ricoh or a further Xerox based on the enhanced quality, as well as the higher maximum weight specified by the manufacturer.
Print buyers interested in finding out more about the digital print services offered by Marstan Press can visit http://www.themarstanpress.co.uk or call 020 8301 5900.