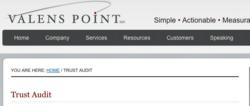 Developing trust impacts the growth, sustainability and profitability of your business – all important factors in creating Sellability.
(PRWEB) March 09, 2012
Trust in business continues to decline. The findings of major studies like the 2012 Adelman Trust Barometer confirm this decline with its reporting that when the public seeks information about a company CEOs have only a 38% credibility rating. This presents a substantial challenge to small business owners who are seen as the CEOs of their companies because trust is an important element in the acquisition and retention of customers. In this distrusting environment the ability of a business to build trust has become an important competitive advantage. Valens Point has created the Valens Point Trust Audit for small business owners looking for a way to identify and prioritize actions that build trust.
The Valens Point Trust Audit allows small business owners to assess their views on trust and to identify current areas of activity and that may be affecting their trustworthiness. The audit response along with a complimentary consultation can identify areas of the business where actions to build trust can be effectively implemented. Business owners can then establish trust goals and incorporate trust development actions into their business and marketing plans.
"Business owners are better equipped to build trust once they see tangible steps that can be taken to do so" says David C. Smith, Managing Partner at Valens Point. "Establishing trust objectives as part of your business strategy can have a profound affect on all aspects of your business and accelerate growth. Trust is paramount in getting and keeping customers, and recruiting and retaining staff, for example. Developing trust impacts the growth, sustainability and profitability of your business – all important factors in creating a sellable business."
Debra Mendes, also a Managing Partner at Valens Point, views trust as an important factor in the development of content used to educate prospects and customer for a business. "One of the most important elements within our marketing strategy focus is to gain trust. A business that can create stories around the trust building actions they implement for their staff, customers, and culture will have a competitive advantage." Valens Point uses the Duct Tape Marketing™ system to help customers build marketing strategies because it emphasizes a straight forward approach for small businesses to marketing focused on getting prospects to 'Know, Like and Trust' you and your business.
Business owners interested in identifying actions that can help them build trust can access the Trust Audit on the company's web site.
About Valens Point
Valens Point helps small business owners increase the value and 'sellability' of their companies. Owners should be rewarded for their hard work and personal investment at transition time – we help you achieve this. Valens Point's services are aimed at increasing revenue and improving profitability systematically and in a manner that helps our clients achieve both their business and personal goals. We deliver measureable results that increase your business value by focusing on the implementation of practical changes based on simple, actionable, and measurable advice.