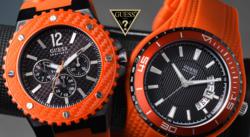 Norwalk, CT (PRWEB) March 09, 2012
An innovative silhouette of sport-inspired fashion, this all-new GUESS Watch is the prototype for masculine yet comfortable accessories; powerfully constructed by a form-fitting opaque orange strap of textured silicone that not only curves perfectly to the wearer's wrist, but also engulfs an eye-catching polished black IP case. A lightweight aluminum top ring in coordinating orange exposes an intricately patterned sun-black dial with tachymeter inspired markings. The contrasting white date window makes this accessory not only fashionable but functional, as well.
And if orange isn't your favored color that day, you have the option of wearing this style in three additional hues white, black and blue. Although identical in both design and detail, each variation lends itself to a distinctive and unique look.
About GUESS Watches:
GUESS Watches is a timekeeping accessory company with a focus on lifestyle driven fashion. GUESS Watches launched its first collection in 1983 with a line of men's and women's fashion watches. Constant attention to new ideas and cutting-edge design keep the brand relevant to today's trends.
###