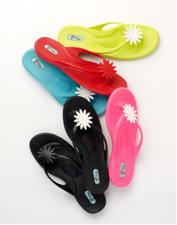 "These are hands down the most comfortable shoes I've ever worn in my entire life."
Atlanta, GA (PRWEB) March 09, 2012
Don't look now but neon's back. Citrus. Lime. Sorbet. Guava. Electric Pink. Big. Bold. It's sassy. It's sizzling. Accessories that pack a punch. But not too much. Which is why the OKA b. 2012 S/S Collection emits just the right amount of 80's voltage, punctuating summer looks without overwhelming them.
OKA b. manufactures eco-accessories that are just as comfy and good for the planet as they are trendy. Manufactured in a low-waste factory just outside of Atlanta, OKA b. also has an active recycling program where customers can send back their well-loved sandals where they will be turned into new product.
With the entire collection priced under $45, new offerings from the OKA b. S/S 12 Collection include the Daisy in Capri, Electric Pink, Cherry and Citrine, the Poppy in Fuchsia with floral clusters, the Justine with enamel flowers along with the entire collection of splashy ballet flats in dozens of vibrant colors. Soft neutrals such as the Lucy in Dove with white coin flowers and the Alyssa in Aged Gold balance the collection for those who are looking for a more classic look.
In addition to creating highly sought after shoes with minimal waste, OKA b. is a company with the greater good in mind. The company recently partnered The American Cancer Society to outfit breast cancer patients with free sandals when they are going through treatment. Thousands of women have already received a pair of OKA b. sandals since the initiative began in 2010. In addition, in collaboration with the American Cancer Society, OKA b. has created a limited edition slide. Between now and October 2012, sales of the Madison Pink Ribbon will result in direct donations to cancer research through the American Cancer Society. Information can be found online at http://www.ourgreatestfeat.com.
ABOUT OKA b.
OKA b. is a division of OKABASHI BRANDS, INC., a U.S. based manufacturer of eco friendly and spa designed sandals, flip flops and slides, sold in more than 5,000 gift shops and spa resorts worldwide. The company produces shoes that are recyclable, waterproof, non-slip and ergonomically designed with massage foot beds at price points under $45. The parent company, OKABASHI BRANDS INC., was founded in 1984 and is also the manufacturer of Okabashi sandals, sold at mass market retailers worldwide. OKA b., the boutique line of spa footwear made for the street, was launched in 2006.