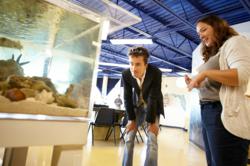 This [Cousteau Divers] partnership enables Canterbury School of Florida students to participate in hands-on research of Tampa Bay. They will catalog and track biodiversity in the Gulf, create wildlife guidebooks and monitor water quality.
St. Petersburg, FL (PRWEB) March 08, 2012
On May 17, Pierre Yves Cousteau, youngest son of late underwater explorer Jacques Cousteau, will be the special guest of Canterbury School of Florida, a private, prekindergarten through grade twelve college preparatory school in St. Petersburg, Florida. Cousteau is opening the North American headquarters of nonprofit Cousteau Divers in St. Petersburg and Canterbury has been selected as the first Cousteau Divers partner school in the world.
With Cousteau present, Canterbury will rededicate its Marine Studies Education Center as the Cousteau Center for Marine Studies to acknowledge this partnership which honors the Cousteau Divers aim to make every diver an agent of the study and conservation of the aquatic realm.
Through this partnership Canterbury students will participate in hands-on research of the Tampa Bay estuary. They will catalog and track biodiversity in the Gulf of Mexico, create wildlife guidebooks and monitor water quality through data loggers. Canterbury also is introducing a new SCUBA Venturing Crew, through the Boy Scouts of America.
On May 18 Cousteau will join students from this crew for a dive in Tampa Bay. Students will get the opportunity to explore underwater life in the Gulf of Mexico alongside Cousteau. They also hope to bury an underwater time capsule with video messages recorded by Canterbury students for students 30 years in the future.
Marine Studies at Canterbury is a school-wide program and curriculum for students in PreK - 12. Students engage in real-world marine research projects and marine conservation community service in addition to learning in the classroom with state-of-the-art technology and a marine science labs.
The soon-to-be-renamed Cousteau Center for Marine Studies is the centerpiece of the program. Located on Canterbury's Knowlton Campus, the 2,800 square foot freestanding center is used by all students and faculty. Its learning laboratory contains classroom and research space, touch tanks, an interactive SmartBoard and an outdoor area for farm-raising fish and growing hydroponic vegetables for recovering marine mammals. The school's campus borders waterways that connect the school to Tampa Bay. Students have the opportunity to join after-school kayaking, SCUBA and marine studies clubs, as well as go on marine biology field trips in the Florida Keys and mini-semesters in the Bahamas to further their one-of-a-kind marine curriculum.