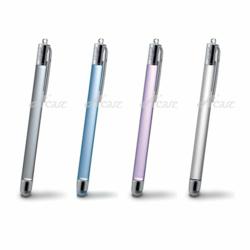 Metallic rubber tip and metal clip, this Crystal Stylus Pen is a fine work with both beauty and functionality!!
Marlboro, NJ (PRWEB) March 09, 2012
Introducing the latest Acase(TM) Crystal Stylus Pen from CTCStore.com:
Product Description:
Integrated with the metallic rubber tip and metal clip, this crystal stylus pen is a fine work that keeps both beauty and functionality. With 11cm long shaft and balanced weight, it is not too heavy yet not too thin, not too bulky yet not too slim.
When this Crystal Stylus Pen is used on touch screens, it offers a natural pen holding and writing experience. The special processing rubber tip, on the other hand, is durable for 100,000 times writing, and at the same time it is soft enough to prevent any scratch on the screen.
Unlike using fingers, the 8mm tip can give more accurate touching and writing, so that user can write smoothly without worrying about the fingerprint. The stylus also comes with convenient clip and drop hole for carrying out.
When light reflects dim glare through transparent silicone, the shaft shines like crystal, it is pure, delicate, and elegant. At that glance, it is more like a work of art than a normal piece.
While capacitive touch screens are great, one flaw is the inability to use a stylus. Not anymore! Acase's Capacitive Stylus Pen allows TouchScreen Devices to be used without ever touching the screen with your finger.
Perfect for the ladies out there who have their nails done, or for those who don't want to take their gloves off during a cold day. The Acase(TM) Capacitive Stylus Pen is conveniently sized, and designed like a pen to fit just about anywhere.
Special Features:
. Works on all Touchscreens Devices
. Conveniently designed in pen form, Perfect for carrying around
. Material: acrylic shaft / rubber tip / metal clip
. Build- in carrying strap hole; comes with strap, Integrated clip design
. Color: Clear. Pink. Blue. Black