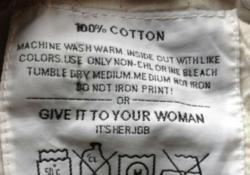 ...the most dangerous place to be is 'plain vanilla' because you don't stand out and people forget about you.
(PRWEB) March 07, 2012
On March 6, 2012, social and online media created a frenzy over Madhouse's controversial washing label that outlines how you should wash the trousers following with: "Or GIVE IT TO YOUR WOMAN. It's her job." Marketing expert, Charles Gaudet, said that while many people were justifiably angered by this comment, the company also received immense support from (mostly men) who thought the label was funny.
"Look, at the end of the day, love it or hate it, Madhouse has now received world-wide attention for its bold marketing move," says Gaudet. "They've received millions of dollars in free publicity and the genius behind this controversial issue is that they have everyone talking about their company, creating a stir among supporters and those who oppose."
Gaudet says that too many companies fail by trying to play it safe by attempting to please all customers and make everyone happy. He continues, "In fact, the most dangerous place to be is 'plain vanilla' because you don't stand out and people forget about you."
By taking an aggressive stance for something – whether it's a design style, specific target market, belief, challenge of the status-quo – entrepreneurs separate themselves from being average and, as a result, tend to inspire a loyal group of followers.
Consider the following examples:
1. Richard Branson with his "Virgin" brand and his uncharacteristic style of leadership.
2. Hooters restaurant chain with its blatant sexual appeal.
3. Steve Jobs and his constant vigilance to fight against the technology status-quo.
4. Donald Trump and his aggressive stance in politics, leadership and what it takes to succeed.
5. Atkins and the controversial belief that 'fat' is good for you.
"Each of these entrepreneurs, at one point or another, created a debate, stir and controversy around their stance. Once considered 'rebels,' their growing support and loyal fan-base has made them heroes. Now, this isn't to say that the Madhouse entrepreneurs will become revered celebrities, but if they take time to recognize why and who supports them, and continue being courageous enough to give them what they want then they will build their support, status and wealth."
For more information on how to improve your marketing and position your company as a leader in the market, please visit http://www.PredictableProfits.com
ABOUT CHARLES GAUDET: Gaudet started his first business at just four years old and has been involved in entrepreneurial enterprises ever since. Upon finding himself in millions of dollars of debt and under enormous stress at the age of 24, he and his wife systematically grew their first multi-million dollar company. Gaudet has traveled much of the world studying from business, political and social leaders studying entrepreneurial, marketing and business excellence. He is widely regarded as a marketing expert for consistently delivering windfalls of profits to his clients by unveiling opportunities that have been previously under-utilized or have gone unnoticed.
He is the founder of PredictableProfits.com, the creator of the Predictable Profits (TM) methodology and the author of the popular blog at http://www.PredictableProfits.com/blog.
ABOUT PREDICTABLE PROFITS: Predictable Profits is a leading small business marketing company and a division of Managed Marketing, LLC. The company specializes in finding overlooked marketing opportunities commonly found in most small-to-medium sized businesses and creating actionable marketing strategies for increasing a company's profits. You can read more about Predictable Profits by visiting the company's website at http://www.PredictableProfits.com.