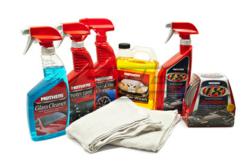 "Mothers car care products are an outstanding addition to the FCP product line and will help us continue to offer the widest possible selection to meet the needs of our customers."
Old Saybrook, CT (PRWEB) March 08, 2012
FCP Euro and FCP Import today announced that they will be adding a full line of Mothers car care products to their already extensive lineups of cleaning and detailing products. Mothers is well known in the automotive world for the exceptional quality of its car cleaning and detailing products and the durability and high shine of its pastes and wax applications. The Mothers car wax product line is recommended by many auto manufacturers for their vehicles and features the highest quality ingredients for the brightest car-show-ready shine. This makes it an ideal addition to the selection of top quality OEM parts offered by FCP and will provide a greater variety of car care choices for their customers.
The Mothers products now available from the FCP family of companies include Mothers car wash, Mothers spray wax, the Mothers premium leather care kit, plastic and aluminum cleaners and polishes and a full line of tire cleaning and shining products. FCP will also offer a full line of Mothers detailing products to give cars that brilliant car show shine inside and out. FCP President Nick Bauer commented, "Mothers car care products are an outstanding addition to the FCP product line and will help us continue to offer the widest possible selection to meet the needs of our customers."
FCP also offers a comprehensive selection of auto parts, accessories and maintenance products designed specifically for imported vehicles from Europe and elsewhere. These OEM parts meet the exacting specifications of the original manufacturer to ensure the best possible fit and function in every case. FCP employs ASE-certified technicians who can recommend the best parts and products for their customers. Additionally, the company offers a thirty-day money back guarantee on all merchandise and free shipping on all orders exceeding $149.99, allowing their customers to buy with confidence while saving money on OEM parts for import cars and trucks.
About FCP Euro and FCP Import
Both FCP Euro and FCP Import were established in 1986 and are family-owned and operated businesses dedicated to providing the highest quality OEM auto parts at the lowest prices in the automotive marketplace. FCP Euro delivers BMW, Volvo, Volkswagen, Audi, Mercedes and Saab auto parts to its customers throughout the country and can also provide a full range of Asian import auto parts through its sister website FCP Import. FCP Euro and FCP Import order their parts direct from the manufacturer and ship from their warehouse in Old Saybrook, Connecticut. This allows FCP to pass the savings along to their customers and provide them with the best possible deals on the full range of European and import auto parts.
Contact:
FCP
877-634-0063