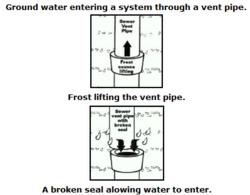 Newfane, NY (PRWEB) March 15, 2012
Since 1995, LNR Industries has been helping make the world a better place through the use of the advanced "A" Clamp. One of the biggest problems facing densely populated areas is treating and disposing of wastewater, and the "A" Clamp has proven to be invaluable to this task.
Due to influent infiltration into "closed" sanitary sewer systems, many sewage treatment plants are forced to discharge raw sewage into local waterways. This is due to the inability to process all the excess flow of water coming through the plant: water that doesn't need to be treated in the first place. The "A" Clamp helps with this by securing the seal, preserving the flow of water through the system.
Using the "A" Clamp is simple, as it was designed for a variety of applications. This makes it easy to prevent influent water infiltration, allowing clients to stop wasting tax dollars processing clean ground water that needs no treatment. Millions of dollars are spent each year around the country on unnecessary treatments that can easily be fixed by installing the "A" Clamp.
By sealing leaking vent pipes, this low-tech solution provides a seal that more expensive and complicated equipment cannot match. LNR Industries is proud of the success the "A" Clamp has brought clients throughout the nation, helping to prevent a very common and unnecessary problem.
After a simple installation, the "A" Clamp will form a seal with leaking vents and riser pipes, allowing sewage and wastewater to be efficiently processed without needing to also treat clean ground water. This also keeps treatment facilities from needing to deal with excess water, reducing the need for them to discharge untreated wastewater into the environment, which is something everyone can get behind.
About the company:
LNR Industries, a family run business, which operates out of Newfane, New York, has researched and developed a product that will eliminate influent infiltration due to leaking vent and riser pipes. The product is a mechanical device, which will couple the sewer vent or riser pipe disallowing the seal to be broken. LNR Industries obtained the patent to the "A" Clamp in 1995. Visit their website at http://www.aclamp.com.