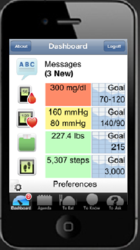 Boca Raton, FL (PRWEB) March 08, 2012
Sensei, Inc. was announced as the winner of the CardioEngagement Challenge, sponsored by Novartis Pharmaceuticals Corporation (NPC) as a Health 2.0 Developer Challenge, with their Sensei Wellness Plus™ mHealth application. NPC introduced the winner at an event at HIMSS12, the annual global conference focused on transforming healthcare through IT in Las Vegas.
The epidemic of cardiovascular disease is on the rise, associated with increasing numbers of people with high blood pressure, high cholesterol, diabetes, bigger portions and less physical activity. Sensei's solution, Wellness Plus™, addresses the key risk factors and lifestyle management related to cardiovascular disease. What makes Sensei Wellness Plus™ work is how we engage consumers by reaching out and transforming their mobile phone into a virtual coach providing personalized, timely and specific guidance as a seamless part of their day and decisions.
Sensei Wellness Plus™ begins with a brief assessment of your cardiovascular risk and then creates a personalized program providing encouragement, education and guidance for nutrition, weight management, fitness and condition specific self-management for those with hypertension, high cholesterol, and diabetes.
NPC challenged participants to "create a game-changing way for patients to better manage their cardiovascular health." The requirements stressed the need for a customizable, user-friendly interface available across multiple platforms (mobile, web, tablet, etc.). The desired solution must help individuals organize & easily access personalized health information, relevant public data, in addition to education, treatment, diet, exercise and social networks.
"We appreciate Novartis Pharmaceuticals Corporation sponsoring this challenge and are honored by the recognition of the esteemed panel of judges from such diverse segments and organizations in healthcare," said Sensei CEO Dr. Robert Schwarzberg. "We look forward to continuing our work and collaboration with others to make health and healthcare better for each and every one of us. "
About Sensei
Started in 2005, Sensei is a healthcare company with a focus on mHealth. We bring new solutions, systems and innovative technology connecting, engaging and empowering people and the key stakeholders in healthcare with programs for wellness, prevention and chronic disease that improve outcomes and reduce costs. Sensei is headquartered in Boca Raton, FL. For further information about Sensei, Inc. visit http://www.Sensei.com.