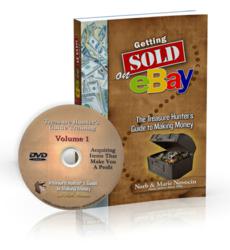 In our book we explain in detail what to look for, where to find it and how to sell it on eBay in such a way to maximize your profits
Eastern Shore, DE (PRWEB) March 07, 2012
Author and eBay Power Sellers Norb and Marie Novocin finally released the long awaited tales of their successes and adventures, "Getting Sold On eBay: The Treasure Hunter's Guide To Making Money." The book contains over 200 pages of the real life experiences of the Novocin family team. "This book was written to help both the experienced and non-experienced sellers on eBay. It puts our real eBay experiences, good and bad, in the hands of the reader. As you can imagine selling over 36,000 unique items over the past fourteen years has provided page after page of valuable information that will put anyone serious about making money on eBay on the track to success," says author Norb Novocin. He goes on to say, "In today's economy, the income that folks can derive from a home based business can make all the difference in the world. Helping another family's business become a profitable success is an excitement unlike any other."
Through the years, Norb & Marie have shared their exciting "Treasure Tales" amazing their many friends, family and others. It wasn't long before these folks and even people they had never met face to face, such as eBay clients and others, who followed their auctions encouraged them to write a book and share the secrets of their success. Now those secrets are revealed in this fun and easy to read guide.
"We have worked on this book for over two years. It's packed with full color photos of actual items we've bought and then sold on eBay. We specialize in antiques, collectibles, rare items and we love those one of a kind, quirky, unusual never before seen finds--we're kind of eccentric that way. In our book we explain in detail what to look for, where to find it and how to sell it on eBay in such a way to maximize your profits. We still manage to sell hundreds of items a month even after the release of our book, I guess we're proud of the fact that after we authored the book we are still as active as ever on eBay," says co-author Marie Novocin.
As of February, 2012 the Novocin's eBay seller ID, EstateAuctionsInc, has maintained a stunning 100% positive feedback rating, over 15,000! They insist on doing things first class, start to finish, so it's no surprise they have also started a DVD training course which works hand in hand with their book. For a limited time they have included this free of charge with the purchase of Getting Sold On eBay. "We are including Volume One of our DVD training which includes over an hour of hands on training. We are actively producing more video resources which will be available online and in DVD format in the near future," says Judah Novocin, Video Content Manager.
The book is available on eBay, of course, as well as the Getting Sold On eBay website and Amazon. However the free DVD offer is only limited to purchases made on eBay or the Getting Sold on eBay Website.