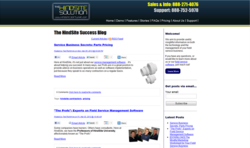 Blogging is a great way to introduce actionable tips and ideas.
St. Paul, MN (PRWEB) March 08, 2012
HindSite Software has begun posting articles to their blog almost daily. The field service management software sees blogging as a great way to provide "best business practices" and other valuable information to field service business owners and managers.
HindSite prides itself on helping its customers succeed. By blogging, HindSite is providing practical business tips to help contractors succeed, besides the efficiency the software already provides. Ted Rightmire, Marketing Manager, stated, "Blogging is a great way to introduce actionable tips and ideas. Our customers have a business to run, and don't always have time to go searching for useful information that can help their business. Our blog puts the information right in front of them, so they can read the articles that appeal and apply to them, and hopefully gain some insight into running their business as efficiently as possible."
Most of the blog's articles focus on business productivity and operations, with an emphasis on practicality, but are also balanced with discussions on the advantages using paperless software can bring to a company still reliant on paper work orders. Built-in mobile automation is just another way HindSite helps field service companies implement "best business practices."
Recent blog posts have included:

The HindSite Solution has helped contractors better control and grow their business with service management software since 2001. Designed by an irrigation contractor, HindSite assists service businesses with scheduling, contact management, field data collection (e.g. mobile time tracking), and invoicing in QuickBooks®. This paperless work order system has been proven to increase efficiency and organization, meaning greater profit potential with less administrative time for HindSite contractors.