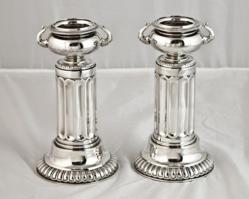 Boston, MA (PRWEB) March 08, 2012
Priceless china, sterling silver salts and fine linens are among the items being sold that were used on board Corsair by JP Morgan and his esteemed guests that included the captains of industry and finance as well as the social register elite.
The rare hand painted Mintons china on offer include luncheon and dinner plates, asparagus plates, serving bowls, platters etc., and a French porcelain teapot, all emblazoned with the New York Yacht Club burgee and Morgan's private house flag of crescent moon and star or the commodore's flag as Morgan was commodore of the New York Yacht Club twice and Corsair was flagship of the prestigious club.
Stunning pair of tall silver salts with urn bowls atop reeded columns engraved S.Y. Corsair along with an engraved silhouette of the yacht, will be a highlight of the day.
Complimenting this offering will be sets of Corsair linens embroidered with the moon and star design from Morgan's private signal.
Regarding the variety of lots to be auctioned, gallery owner Larry Lannan comments: "Last May we sold 220 items from Corsair with great success for our consignors resulting in their entrusting us with more great former possessions of J. Pierpont Morgan. We are also selling a truckload of gleaming brass artifacts and ship models from a waterfront estate in Rhode Island that was amassed by three generations of yachtsmen".
The auction will also feature an amazing assemblage of nautical antiques including a massive 19th century saluting cannon by Strong with a 32" barrel on it's original carriage. Other choice items include a United States Lifesaving Service cannon from 1905 by Richmond Iron Works, copper diving helmets, bridge telegraphs, binnacles, wheels, lanterns, etc.
The 55 ship models on offer include models of Corsair and other steam yachts, America's Cup boats, tugs, pond yachts, etc. There are also architects builder's models and plans.
Artwork will include yacht blueprints from Sparkman and Stephens and also Alden, rare nautical charts, an Edouard Adam painting of the steam yacht Venetia, an English port painting, oils of yacht races etc.
A dozen unique clocks will be auctioned with serial numbers dating to an early 20th century sale date including a Chelsea automatic ship's bell outfit, a 19th century clock and barometer by Salom & Co., of London.
Other items of nautical interest include a rare solid gold Lifesaving medal by Tiffany & Co., dated 1926 is offered as is a large collection of silver plate serving pieces from a US Navy officer's club, sea chest, carved eagles, trade signs etc.
Library tables, globes, side tables, an armoire, and other furniture is to be sold. The auction will be conducted live at Boston Harbor Auctions 185 Purchase St. in Boston and online at http://www.bostonharborauctions.com
For further information contact Larry Lannan at 617 451 2650
Ma Lic 2428