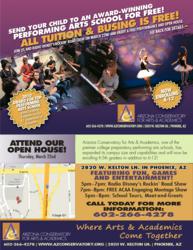 Phoenix, AZ, (PRWEB) March 08, 2012
Today, the Arizona Conservatory for Arts and Academics (ACAA) announced a new campus expansion that will make it the only performing and visual arts public charter school in North Phoenix that serves Kindergarten through 12th grades. The new 26,625 sq. ft. campus will be located directly across the street of the main campus, which serves 7th through 12th grades, located at 2820 West Kelton Lane in Phoenix. Enrollment is currently underway for the new campus, which will open on August 8th 2012 and accommodate approximately 300 new Kindergarten through 6th grade students.
"Adding kindergarten through 5th grade as a feeder school to an excelling 6th-12th grade performing arts school is the natural progression. Our communities deserve to have this school of choice to enhance or perhaps bring out their child's talents in the arts without having to wait until middle or high school," said ACAA Assistant Superintendent, Brad Miles.
The $900,000 facility will include: 13 classrooms, a computer lab, auditorium, kitchen, conference room, three administrative offices, ball court and playground.
ACAA is rated as an excelling academics and performing arts school by the Arizona Department of Education and is tuition entrance exam and audition free. All grades will participate in College Prep Academics and Arts Electives. Younger grades will have a choice of visual art, music, drama, and vocals. Younger grades will also have physical education. A new playground and a grass ball field will also be built.
K-6 will attend Monday-Thurs 8:10 AM until 3:45pm. Fridays will be dedicated to tutoring, and performing art rehearsals from 8:00 am to 1:00 pm. There are also plans for before and after care at a fee. Kindergarten will be Monday - Thursday 8:10am to 3:45pm with a half day option ending at 11:30am. Kindergarten academics will be in the am and arts in the afternoon.
Parents and interested students are encouraged to visit ACAA on Thursday, March 22nd for the ACAA Open House that will feature Radio Disney Rockin' Road Show at 5:00 pm and a free ACAA performance featuring dance, vocals, drama, percussions and guitar at 7:00 pm. Plus, Parents will have an opportunity to tour the school and meet with instructors.
ACAA is also hosting ongoing parent focus groups to work collaboratively with staff. These meetings allow for the community to have a voice as topics are discussed as they pertain to the opening of our new school. The next focus meeting will take place on the ACAA campus on March 27th at 6:30 pm. Please RSVP by contacting Anne at 602-266-4278
New and extend programs for ACAA's Kindergarten through 12th grade students include:

Free Transportation
Free Friday Tutoring
Four Day School Schedule
Extensive After School Programs
All Day Kindergarten
Two Dance Studios
28 Station Piano Studio
Guitar Studio
Percussion Studio
Two Vocal Studios
Drama and Theater
Free Early College Program that enables High School student to attend and earn College credit before High School graduation.
The new school year begins August 8th and enrollment is currently underway for all grades. To learn more call 602-266-4278 or visit http://www.azconservatory.org.