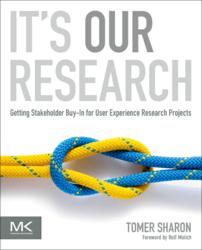 Tomer Sharon's book is the cure for usability professionals whose work isn't having the impact it deserves. Here you'll find ways to work different, to make your research connect with stakeholders instead of trash cans. – Gerard Torenvliet, Medtronic
Waltham, MA (PRWEB) March 07, 2012
Elsevier's Morgan Kaufmann, a global leader in cutting-edge computing content, is pleased to announce a new book by a Google user experience researcher that will give practitioners and managers the tools they need to create organizational buy-in for UX research.
It's Our Research: Getting Stakeholder Buy-in for User Experience Research Projects by Tomer Sharon provides a strategic framework for people who practice UX research who wish to be heard by their stakeholders. It gives you the techniques needed to involve stakeholders throughout the process of planning, execution, analysis, and reporting UX research:

Features a series of video interviews with UX practitioners and researchers
Provides dozens of case studies and visuals from international research practitioners
Provides a toolset that will help you justify your work to stakeholders, deal with office politics, and hone your client skills
Presents tried and tested techniques for working to reach positive, useful, and fruitful outcomes
This book will help practitioners and managers dramatically increase the chances that colleague -- product managers, engineers, and management -- agree to do research and act upon its results.
"When I meet people who practice user experience research I always ask them 'what are the top three challenges they face at work.' Getting stakeholder buy-in for research is usually the first challenge they mention," says Tomer Sharon. "I authored this book to provide people who practice (or would like to practice) user experience research with strategies and techniques for getting their stakeholders' buy-in for research."
It's Our Research comes at a critical time for UX research as contact with customers moves from the physical space to the web space. UX managers across the board are eager to put the latest research to work and leaders have embraced Sharon's book. Gerard Torenvliet, senior human factors scientist at Medtronic said "Tomer Sharon's book is the cure for usability professionals whose work isn't having the impact it deserves."
Tomer Sharon is a User Experience researcher at Google Search. Previously, he led the user experience research effort for Google's online advertising management platform – DFP (Doubleclick for Publishers). Prior to Google, he worked at Check Point Software Technologies in Israel as User Experience Research Lead. As founder and first president of UPA Israel, he led the chapter to many achievements such as raising awareness of the need for easy-to-use, efficient, and fun technology products, and growing and nurturing a professional community of 1,000 practitioners. Tomer is an experienced speaker at local and international conferences, a published author of articles and papers, and a past editorial board member for UPA's UX Magazine. Tomer holds a BA in Social Sciences from The Open University and a master's degree in Human Factors in Information Design from Bentley University in Waltham, MA.