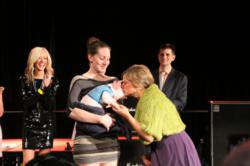 Amy and her team shattered all previous fundraising records for the small business category and set a new standard for future campaigns.
Bentonville, AR (PRWEB) March 08, 2012
Collective Bias, a leading social shopper media company, is proud to announce Amy Callahan, chief of staff, as this year's small business category winner at the 10th Annual Northwest Arkansas Kiss a Pig Gala presented by the American Diabetes Association (ADA) and Glucerna on Saturday, March 3rd. Callahan raised $42,700, which set the record in fundraising for this category.
"The success of this year's event is truly the result of hard work and dedication by our incredible 2012 Kiss a Pig candidates and campaign managers," said Lori Jones Bramlett, Director of the ADA of northwest Arkansas. "Amy and her team shattered all previous fundraising records for the small business category and set a new standard for future campaigns."
Callahan was one of ten contestants in this year's Northwest Arkansas Kiss a Pig Gala, voted the Best Charity Gala in Northwest Arkansas for the last five years. Contestants are broken up into two categories, small business and big business. The winners who raised the most money got to kiss a pig in honor of the American Diabetes Association's fight to stop diabetes. Callahan's campaign managers were Kathleen Henage of Collective Bias and Tamara Horn of Ogilvy Action.
"I am honored and humbled to have competed alongside such strong community leaders for this important cause," said Callahan. "I truly appreciate the support of my influential Collective Bias community, as well as my local friends and family. Our efforts will touch the lives of many."
The Northwest Arkansas Kiss a Pig Gala is one of the top-ranked ADA galas nationwide. This year, the local event drew in around 1,300 guests and raised more than $470,000. The 80s-themed event featured Bret Michaels, formerly of the band Poison, as the entertainment for the evening. Michaels was diagnosed with diabetes at the age of six and is instrumental in the Stop Diabetes movement.
Each year the ADA asks local leaders and business executives to raise money for the chance to kiss a pig, in thanks for its life-saving role in diabetes research as the first source of insulin. All proceeds benefited the Northwest Arkansas American Diabetes Association and the mission to prevent and cure diabetes, and to improve the lives of all children and adults affected by type 1 and type 2 diabetes.
About Collective Bias
Collective Bias™ drives retail sales through the coordinated creation of social media stories. Our Social Fabric® influencers connect with the brands and retailers they use in their daily lives to drive conversations on a wide variety of social media platforms. Their stories build consumer engagement and brand loyalty, ultimately leading to sales conversion. For more information, visit http://www.collectivebias.com.