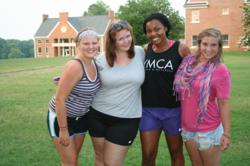 "We believe WellBalance offers the best weight loss camp value anywhere," CEO John Gordon
Asheville, NC (PRWEB) March 12, 2012
WellBalance fitness and weight loss camps recently announced a $500 early enrollment discount available to families interested in enrolling their child at either weightloss camp location of WellBalance by the Bay in Santa Cruz, CA or WellBalance Cape Cod in Massachusetts.
"We certainly understand that these are trying economic times for many families," commented John Gordon, CEO of WellBalance, "We thought this $500 early enrollment discount would help more kids, teens, and young adults have the opportunity to attend WellBalance and enjoy healthier, happier lives."
This Early Enrollment discount of $500 is only available to the next 15 camp enrollees.
Applications and deposits to WellBalance weight loss camps must be for more than a 4 week enrollment and must be received by midnight Monday, March 26 to be considered for the $500 offer. Families applying to either WellBalance California or WellBalance Cape Cod locations are eligible for this offer.
"We believe WellBalance offers the best weight loss camp value anywhere," continued Mr. Gordon, "We have two great locations in popular vacation destinations, masters-level staff in nutrition, culinary, fitness, and behavioral psychology, a complete health approach, and now a discount that makes our pricing even better."
WellBalance Cape Cod fitness and weight loss camps operate for 8 weeks with 2 - 8 week sessions available from June 17 through August 11, 2012. WellBalance by the Bay in California runs from June 24 to August 18, 2012 with 2 – 8 week sessions.
###
WellBalance health camps (http://www.WellBalance.com) were created in response to the growing obesity epidemic and the unmet needs for a realistic, scientific, and personalized approach to fitness and weight loss. The WellBalance approach, called the ME Plan, is designed to Motivate & Educate on diet + activity + lifestyle changes. Founded by professionals and guided by experts who provided leadership to some of the largest behavioral health, mental health, and treatment programs in the country, WellBalance is working to become the leader in fitness and weight loss programs. WellBalance operates two summer camps in Cape Cod, Massachusetts and Santa Cruz, California. For additional information please visit http://www.wellbalance.com or call (800) 975-0435.