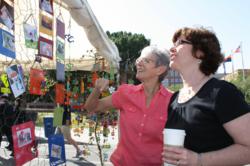 This spring, visitors will revel in the plentiful arts and cultural events that Tempe has to offer all season long.
Tempe, AZ (PRWEB) March 08, 2012
Explore the arts, theatre, music and festivals all while enjoying the abundant sunshine in Tempe, Arizona. This spring, visitors will revel in the plentiful arts and cultural events that Tempe has to offer all season long. The Tempe Tourism Office is the perfect resource for planning a unique springtime vacation.
Visitors to Tempe have a new art space to explore in the Mill Avenue District. Originally a vacant retail space in downtown Tempe, the Montage Art Studio was transformed into a shared art studio with the goal of encouraging creative activity. This shared studio space allows artists to interact with guests, collaborate with likeminded creators and be a part of the Mill Avenue vibe. A variety of artisans such as painters, sculptors and jewelers can be seen creating in their work space throughout the year. Montage is open Friday and Saturday evenings from 5 to 9 p.m. and is part of the Mill Avenue District's monthly "Third Thursday" art show, featuring local entertainment and music.
Enjoy live music in picturesque desert surroundings at the Music in the Garden Series at the Desert Botanical Garden. Concerts are held Friday evenings from March through May from 7:00 – 9:00 p.m., and in June from 7:30 – 9:30 p.m. Guests can enjoy live entertainment, complimentary dance lessons and tasty food offerings. Garden guests can arrive early to also see the Design for a Living World exhibit about design and sustainability, on display in Dorrance Hall. This exhibit connects the natural world around the globe with people, plants and places and includes works by ten prominent designers that used sustainable materials from around the world to recreate everyday objects.
Some of Broadway's biggest hits are headed straight for ASU Gammage this spring. Designed by renowned architect Frank Lloyd Wright, ASU Gammage plays host to GREEN DAY'S AMERICAN IDIOT April 24-29. Based on Green Day's Grammy Award-winning multi-platinum album, audiences will delight in hits such as "Boulevard of Broken Dreams," "21 Guns," and "Wake Me Up When September Ends" throughout the musical. Also taking the stage at ASU Gammage this spring is RAIN A TRIBUTE TO THE BEATLES May 10-12, LA CAGE AUX FOLLES May 15-20 and MILLION DOLLAR QUARTET June 5-10.
Art lovers will be in their element March 30 – April 1 at the Tempe Festival of the Arts. More than 400 artists and craftspeople will display art ranging from jewelry to sculpture to photography to woodworking. High-end art collectors as well as bargain-hunters will find something that suits their fancy. This free festival provides a street fair atmosphere with street performers, live music and hands-on activities for children. In addition to art, festival goers have the opportunity to sample local wine and beer at the Art of Beer and the Arizona Wine Festival.
The ASU Art Museum is featuring three impressive exhibits of contemporary art this spring. Performing for the Camera, on display through May 19, presents 50 creative photographs featuring elaborate costumes and masquerades, large groups of people, theatrical settings, serial images and cinematic framing. These works blur fact and fiction, both teasing and inspiring the audience to complete the story for themselves. Miracle Report: Julianne Swartz and Ken Landauer, Social Studies 8, on display through June 2, creatively depicts discoveries about miracles made Julianne Swartz and Ken Landauer. The artists explored the miraculous through people's perceptions of it in their lives, interviewing students and community members of all ages and backgrounds, and illustrated their findings via video vignettes. Also not to be missed, the Legends and Myths: Japanese Kabuki Prints from the ASU Art Museum Print Collection exhibit is on display through May 19.
For more information about arts and cultural events in Tempe, visit http://www.TempeTourism.com or call 800-283-6734.
About Tempe Tourism Office
The Tempe Tourism Office is a non-profit organization devoted to marketing Tempe, Arizona as a desirable visitor and group destination site. The Tempe Tourism Office's mission is to provide visitors, media professionals and meeting planners with information on Tempe hotels, Tempe restaurants, Tempe entertainment and local points of interest. To learn more about Tempe, Arizona please call 480-894-8158 or 800-283-6734 or visit http://www.TempeTourism.com.
###