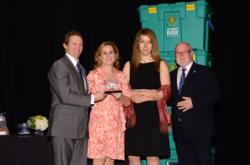 Our corporate supporters, including Jefferies, eBay, PayPal, IBM and Neiman Marcus, help make our work possible, not only through funding, but also through in-kind support and engaging their employees to address the needs of vulnerable families
Sarasota, FL (PRWEB) March 07, 2012
During its annual Humanitarian Awards dinner in Orlando, Fla., international disaster relief charity ShelterBox USA honored four U.S. companies for their support of its efforts to provide emergency shelter and life-saving equipment to disaster survivors worldwide.
ShelterBox provides humanitarian aid in the form of an iconic green box, which contains a disaster relief tent for an extended family, stove, blankets and water filtration system, among other tools to help a family rebuild their lives after disaster.
eBay, PayPal, IBM and Neiman Marcus received the ShelterBox USA Corporate Partner Award, presented to businesses for their outstanding commitment to ShelterBox and its mission through funding, in-kind support and employee engagement.
The ShelterBox USA Humanitarian of the Year Award is given to an individual or group who has significantly impacted ShelterBox and the disaster survivors it serves through philanthropic leadership. Presented to fashion icon and philanthropist Donna Karan in 2011, the 2012 honoree is Jefferies, a global securities and investment banking group.
"Our corporate supporters, including Jefferies, eBay, PayPal, IBM and Neiman Marcus, help make our work possible, not only through funding, but also through in-kind support and engaging their employees to address the needs of vulnerable families," said Emily Sperling, ShelterBox USA president. "I am amazed by the passion of their employees, and we were incredibly honored to celebrate their efforts at our awards ceremony."
Jefferies. Jefferies provided significant support to ShelterBox, enabling the charity to not only immediately provide emergency shelter and supplies to survivors of the 2010 Haiti earthquake and the 2011 earthquake and tsunami in Japan, but also procure and prepare aid for future disasters.
Over the last 10 years, Jefferies has raised $25 million for disaster relief, including $1.25 million in contributions to ShelterBox. Jefferies was particularly interested in ShelterBox for its unique model of care in delivering shelter, warmth and dignity to those in need.
eBay and PayPal. In lieu of giving employees a holiday gift, eBay Inc. opted to make a charitable donation. The world's largest online marketplace identified a group of eight nonprofit organizations that have special meaning to employees from around the globe and then asked employees to vote for their favorite. ShelterBox USA received the highest number of votes, leading to a total donation of $85,000.
IBM. ShelterBox and IBM share not only a global footprint, but also a commitment to helping those in need. Last year marking IBM's 100-year anniversary, employees were encouraged to volunteer their time to charity projects at an unprecedented level. All over the world, during the Centennial Celebration of Service, IBMers engaged in activities in support of ShelterBox. The partnership has resulted in IBM employees and other stakeholders assisting ShelterBox worldwide, including in the USA, UK, Brazil and Canada. IBMers have helped ShelterBox with intellectual property developments, provided in-country contacts following disasters, secured pro-bono legal counsel, created an animated video explaining the ShelterBox process from donation to deployment, started a smart phone application, and provided the organization with social media best practices.
Neiman Marcus. Following the devastating earthquake in Haiti in 2010, Neiman Marcus, in collaboration with Donna Karan's Urban Zen Foundation, helped raise awareness and funds by displaying ShelterBox tents at locations across the nation. Since then, the company has continued to support ShelterBox's work by launching an additional employee-giving campaign, that when matched by the company, raised $100,000 for aid to disaster survivors.
ShelterBox currently has teams responding to flooding and an earthquake in the Philippines, as well as a cyclone that struck the eastern shores of Madagascar.
Since 2000, ShelterBox has delivered humanitarian aid in the form of equipment and materials that provide shelter, warmth and dignity to people affected by natural and other disasters following more than 170 disasters in 80 countries. ShelterBox's American affiliate, ShelterBox USA is nationally headquartered in Sarasota, Florida. Individual tax-deductible donations to ShelterBox USA can be made at http://www.shelterboxusa.org or (941) 907-6036. Location and time specific donations cannot be accepted.