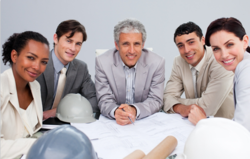 Philadelphia, PA (PRWEB) March 13, 2012
Proper handling and disposal of blood, infectious materials and other hazardous medical waste are addressed in the newest Medical Home Builder 2.0 modules, Bloodborne Pathogens & OSHA and Medical Waste Management. These additions to the online practice management tool from the American College of Physicians (ACP) are designed to help practices protect staff and patients while complying with federal, state and local regulations.
A robust yet easy-to-use, self-paced online tool, Medical Home Builder 2.0 enables physicians and their staffs to measure and—where needed—improve patient care, office procedures and procedural care workflows.
"Improper handling of hazardous medical waste could have serious health, safety and financial consequences for medical practices," said Dr. Michael S. Barr, ACP's senior vice president for the division of medical practice, professionalism and quality. "These new modules address safety and practice management concerns. Regulations and procedures are clear—ongoing education and training of staff are essential activities for every medical practice."
The Bloodborne Pathogens & OSHA module follows OSHA requirements regarding the creation and annual review of an Exposure Control Plan (ECP). The ECP must address exposure determination, methods of exposure control, HPV vaccination, post-exposure procedures, communication of hazards, employee training and recordkeeping.
Both patients and staff are at risk of exposure to disease-carrying blood and other potentially infectious materials. A single careless act can have serious consequences for staff, patients and office workers such as cleaning crews. In addition, employers have been fined hundreds of thousands of dollars for not complying OSHA's requirements for protecting employees from bloodborne pathogen exposure.
Appropriate management of medical (hazardous) waste is guided by federal and state regulations. Unfortunately, many practices are either unaware of the regulations or over interpret the rules and therefore incur significant avoidable costs with regard to medical waste disposal. The Manage Medical Waste module highlights key points that will help practices maintain a safe and efficient environment.
Dr. Barr continued, "Medical Home Builder will be adding modules to help practices with day-to-day operations. These new modules on bloodborne pathogens and medical waste are the first in this series with others currently in development."
Medical Home Builder 2.0 users are enrolled in an online community of practices that are committed to improving patient care and identifying office efficiencies. Not all practices are committed to becoming medical homes—but all find value in the variety of modules available and guidance provided. All members of participating practices have access to all of the content in the Medical Home Builder including peer-to-peer videos and a community discussion forum where questions can be posed to colleagues. For more information, visit http://www.medicalhomebuilder.org.
The Bloodborne Pathogens & OSHA and Medical Waste Management modules were both written with extensive contributions by Elaine Pappamihiel, MT (ASCP), Technical Specialist in the ACP Medical Laboratory Evaluation (MLE) program.
About the American College of Physicians
The American College of Physicians is the largest medical specialty organization and the second-largest physician group in the United States. ACP members include 132,000 internal medicine physicians (internists), related subspecialists, and medical students, residents and fellows. Internists specialize in the prevention, detection, and treatment of illness in adults. Follow ACP on Twitter and Facebook.