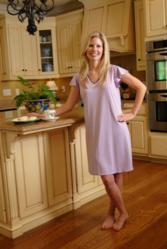 We are pleased that our comfortable fabric is helping so many women- it's so much safer than pills.
Highland Park, IL (PRWEB) March 08, 2012
[Goodnighties Recovery Sleepwear is announcing support of The Centers for Disease Control and Prevention's National Sleep Awareness Week March 5-11, 2012. The awareness of sleeping better strikes a chord for the millions of Americans who suffer from sleep issues some as a result of tough economic times. Many struggling to find simple solutions for better sleep are discovering that sleeping pills are not always the best choice when it comes to better health. Women in particular who find unavoidable hormone changes due to menopause are twice as likely as men to have difficulty falling and staying asleep. With new patented sleepwear fabric used to make Goodnighties Recovery Sleepwear, women are finally getting some relief. The technology used in this revolutionary fabric first appeared in high-performance athletic apparel. It's proven to stimulate blood flow to tired muscles which in turn promotes a more restful sleep. Additionally, Goodnighties moisture wicks to keep the sleeper dry and like no other pajamas, is anti-microbial.
The heightened awareness of the importance of better sleep magnifies the dangerous approach through pills that many use to find relief. A recent announcement from the British Medical Journal's 2-year study determining that "sleeping pill users are 3.5 times more likely to die of all causes than those who did not take sleeping pills." The findings are concerning with a further warning from ABC World News Chief Health and Medical Editor, Dr. Richard Besser "sleeping pills could delay a critical health diagnosis for something more serious." Last year over 15 million women age 40-59 were prescribed Ambien." said Dr. Besser.
"Most know sleeping pills are not a good solution - we are pleased that our comfortable fabric is helping so many – we randomly hear from customers all the time who are grateful for a simple solution that happens to be fabric" says owner, Marcia Bacon.
The National Sleep Foundation recommends that U.S. adults sleep on average 7-9 hours per night. However, 37.1% of adults report regularly sleeping less than 7 hours per night. The announcement continued with; persons reporting sleeping less than 7 hours on average during a 24-hour interval are more likely to report unintentionally falling asleep during the day at least one day out of the previous 30 days (46.2% compared with 33.2%) and nodding off or falling asleep while driving (7.3% compared with 3.0%). Poor sleep has also been associated with self-reported anxiety, depressive symptoms in addition to frequent mental and physical distress.
Such findings suggest the need for greater awareness of the importance of sufficient sleep. Further information about factors relevant to optimal sleep can be obtained from National Sleep Foundation (sleepfoundation.org ) and CDC (cdc.gov/sleep).
For more information please visit http://www.goodnighties.com.