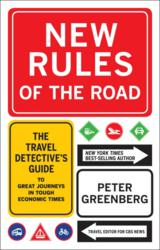 *As seen on CBS This Morning*
Studio City, California (PRWEB) March 08, 2012
New Rules of the Road
The Travel Detective's Guide to Great Journeys in Tough Economic Times
by New York Times best-selling author Peter Greenberg
Fuel prices are skyrocketing and airfare is climbing. In these tough economic times, the travel process is ever-evolving and the rules are changing. In his latest book, New Rules of the Road (paperback, $15.95; e-book $3.99), Peter Greenberg reveals his hard-earned tips, tricks and tools to beat the travel industry at its own game.
As the Travel Editor for CBS News, Peter Greenberg covers more than 400,000 miles, 300 days a year. The world's preeminent travel news journalist shares his expertise on:
*the best day (and time) to buy airline tickets
*how to negotiate a hotel room rate
*how to find last-minute cruise deals
*playing the frequent-flier mile game
*free activities in more than 30 cities
*driving trips on just one tank of gas
*and much, much more...
Bring home your own copy of New Rules of the Road, visit Amazon (e-book), Barnes & Noble (e-book) or PeterGreenberg.com (paperback). For additional information on this publication or to obtain a review copy contact Loretta Copeland (818-985-9160/loratpsg(at)aol(dot)com). For Peter Greenberg's latest travel news, travel blogs and travel tips visit http://www.petergreenberg.com.
ABOUT THE AUTHOR:
Peter Greenberg is America's most recognized, honored and respected front-line travel news journalist. He is Travel Editor for CBS News, appearing on CBS This Morning and CBS Evening News with Scott Pelley, among other broadcast platforms. Greenberg is also host of a nationally syndicated radio show, broadcast each week from a different remote location around the world. An Emmy Award-winning investigative reporter and producer, Greenberg travels more than 400,000 miles each year and lives in New York, Los Angeles, Bangkok, and in most airports around the world.
New Rules of the Road: The Travel Detective's Guide to Great Journeys in Tough Economic Times
Peter Greenberg
Paperback Original $15.95; E-book $3.99
ISBN: 978-0-9849775-0-5