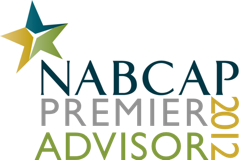 Denver, CO (PRWEB) March 08, 2012
NABCAP to publish their Premier Advisor list in 35+ markets this year. The non-profit organization is inviting Financial Advisors to participate in the objective review process to be evaluated and considered for their list of top practitioners in their local market. There is NO cost for advisors to participate and be evaluated.
NABCAP is currently evaluating practices in the following markets and urges advisors to participate before the deadline passes:
Charlotte, NC (Mar.9th), Portland, OR (Mar. 16th), Houston, TX (Mar. 23rd), Phoenix, AZ (Mar. 30th), Jacksonville, FL (Mar. 30th), Raleigh, NC (Apr. 6th), Orlando, FL (Apr. 6th), Georgia (Apr. 6th), Sacramento,CA (Apr. 13th). *It is critical for advisory practices to participate if they wish to be considered.
There will be more markets opening up in the months to come but in the mean time, look for the NABCAP Premier Advisor list that publishes in your local area. Minneapolis/St. Paul Business Journal published NABCAP's list on Feb. 24th & San Francisco Business Times will be publishing NABCAP's list on Mar. 16th.
For instructions on how to participate, contact NABCAP info(at)nabcap(dot)org
About NABCAP
The National Association of Board Certified Advisory Practices (NABCAP) is a nonprofit organization created to establish mutually understood standards and practices among both investors and advisory practices. Their primary mission is to educate and inform the investing general public with reliable, unaffiliated, unbiased and completely objective educational resources and information. NABCAP Premier Advisors lists are a powerful reference for investors to identify the top wealth managers in their local market. Visit http://www.nabcap.org for more information.