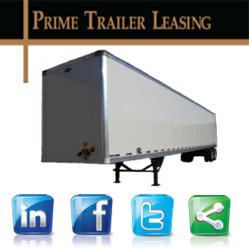 Relationships Matter
Denver, CO (PRWEB) March 21, 2012
"Relationships Matter" is the slogan of Prime Trailer Leasing and is played out daily through their semi trailer sales and rentals operations in Colorado, Nevada, and Utah. Everything they do at their business and operations is based around providing excellent customer service that keeps their business customers coming back consistently, year after year.
When asked about their efforts towards customers, Allen Gardner, Marketing Director for Prime Trailer Leasing said, "We take a team approach to serving our customers. From relevant and useful content on our website, to customers talking to real people when they call in vs an automated system, to the time and effort we put into our operations and equipment quality, its all part of our goal to not only serve the customer so they repeat business, but to forge relationships that last. Life isn't meant to be done alone and the same applies for businesses."
To better their efforts in customer service, Prime Trailer Leasing has created quarterly customer surveys to help give the customers a voice and provide useful feedback. The salesmen are visiting their customers over the next few weeks to personally hand out these surveys and provide instruction and help where needed.
Prime hopes that the surveys will allow their customers to be honest in their evaluation and give helpful feedback that will further help them to excel at their goal of building lasting relationships to grow their company and make a difference in their communities.
Prime Trailer Leasing has provided quality customer service for almost 20 years in the semi trailer rental and sales industry. Their dedication to genuinely growing their relationships with their customers is what has established them as industry leaders and is what will keep them as industry leaders for years to come.