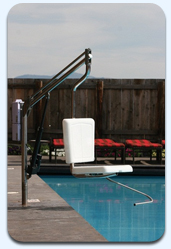 We believe that everyone should have access to recreational areas.
Saint Augustine, Fla. (PRWEB) March 07, 2012
Americans with disabilities will soon have the ability to participate in swimming activities that may have previously been inaccessible to them. The updated 2010 Americans with Disabilities Act (ADA) Standards will require public and commercial facilities to include accommodations for entry and exit of pools nationwide by March 15, 2012.
The updated ADA Standards requirements will affect many of BYO Recreation's customers. This is why they have included ADA compliant pool lifts with backs to their wide selection of products. According to ADA Standards, pool lifts that have backs allow a wider range of people with disabilities access to pools. The new access that pool lifts allow will change countless lives across the country.
"BYO is dedicated to accessibility standards," said Bill Calhoun, president and founder. "The products we offer are ADA compliant because we believe that everyone should have access to recreational areas and the opportunity to have fun."
National and local facilities can help increase memberships and programs by installing ADA pool lifts. Some of these programs are created specifically for different types of disabilities, which can range from learning and behavioral to physical disabilities. These types of programs offer a vast amount of benefits and can create opportunities for fun.
BYO Recreation added pool lifts to their selection in order to continue with their mission of creating Beyond Your Ordinary recreation spaces that everyone, regardless of physical ability, can enjoy.
About BYO Recreation
Headquartered in St. Augustine, FL, BYO Recreation is one of the most comprehensive and fastest growing recreational equipment suppliers in the world. Since 1999, the company has helped thousands of schools, churches and communities create recreational spaces that are truly Beyond Your Ordinary. For additional information about BYO Recreation, visit http://www.byoplayground.com.
###