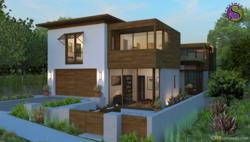 Los Angeles, Calif. (PRWEB) March 08, 2012
A construction site in fashionable Pacific Palisades will become much more than an example of southern California luxury living. The home also will serve as an education and demonstration site for sustainable building and healthy living.
The VISION House Los Angeles incorporates California's new mandatory green building standards, CalGreen, that emphasize performance, durability, energy efficiency, water conservation, indoor air quality, efficient systems, and sustainable materials. The project is a joint effort of Green Builder Media and Structure Home, a Los Angeles-based builder. The project team will host a wide variety of educational, promotional, and community-focused events during and after completion.
Ron Jones, owner of a leading green design-build firm and president of Green Builder Media, says creating a healthy living environment in a community renowned for air quality issues was a priority for the VISION House LA team.
"It was absolutely paramount," Jones says. "We consider indoor air quality to be a huge issue and therefore a central vacuum is standard equipment."
The BEAM Serenity QS Central Vacuum System chosen for the project delivers up to five times the deep cleaning power of a conventional vacuum. It removes 100 percent of contacted dirt and allergens from the living area without stirring up dust inside the home. The system has been clinically proven to relieve allergies. The BEAM system also qualifies for green building certification points in both the National Association of Homebuilders and LEED green building standards.
Other key features of VISION House LA include cabinetry certified by the Environmental Stewardship Program, decking and railing products manufactured from recycled plastic, scrap wood and sawdust and high-efficiency water and radiant floor heating systems.
"In all of our surveys of consumers, their first concern is energy issues and right behind that, a very close second, is indoor environment quality because they realize all of the things that are taking place relative to health, especially with children," Jones adds.
Electrolux Central Vacuum Systems is the world's leading producer and marketer of built-in central vacuums. The company's BEAM, Electrolux and Eureka Central Vacuum Systems are sold in 50 countries around the world. Electrolux Central Vacuum Systems is a division of Electrolux Home Care Products North America.
For more information and photos, visit http://www.beampresscenter.com.