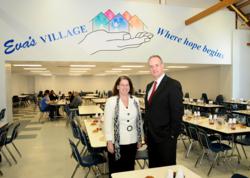 Paterson, NJ (PRWEB) March 12, 2012
The soup kitchen program at Eva's Village, New Jersey's most comprehensive anti-poverty organization, continues to experience an increase in the number of hungry and homeless coming for a hot mid-day meal. One of the most visible consequences of the national economic downturn is the increased demand for basic social services. Eva's Village realized the need to increase the capacity of its kitchen program, from 240 seats to 400. This expansion has taken time to complete and could not have been accomplished without the support of dedicated donors like the Columbia Bank Foundation.
The mission of the Columbia Bank Foundation is to make a "measureable difference in people's lives!" They achieve this goal by providing community grants to local charitable and community organizations. "With the expansion of their Kitchen Program, Eva's Village realized that they would need to acquire additional tables and chairs," noted Thomas J. Kemly, President and CEO of Columbia Bank. "Our community grant funded their purchase and made their expansion dream a reality. As a true community bank, we believe in giving something back to the communities we proudly serve."
The number of homeless and working poor that come to Eva's Kitchen for the noon meal has increased considerably over the past four years (23%) due to the economic downturn. Yet as the economic crises continues, Marie Reger, Executive Director, sees hope in the continued support from the local business community. "We are thankful for the support of Columbia Bank in helping us with our kitchen expansion," states Marie Reger. "As it has been said, "It Takes a Village" and this is true when helping the poor, not only for childrearing."
Eva's Village started as a simple soup kitchen feeding 30 when it opened in 1982. It now feeds lunch to over 350 men and women each day and includes thirteen other integrated programs housed in numerous buildings spanning several city blocks in downtown Paterson. Founded by Msgr. Vincent E. Puma as a response to the poor and homeless, Eva's Village (http://www.evasvillage.org) is a non-profit comprehensive social service organization with a mission to feed the hungry, shelter the homeless, treat the addicted and provide medical and dental care to the poor with respect for the human dignity of each individual. Through almost three decades of service, Eva's Village has established a commendable record in facing community challenges and changing the lives of the hungry, homeless and addicted.
Donna Marie Fico, Director of Marketing & Education at Eva's Village, notes that while Eva's Village draws on many sources of funding, grants from larger corporations have suffered in the current economic crisis. Ms. Fico points out that successful local business donors, like Columbia Bank, are very astute in their giving, saying, "Local donors want to know their support is used wisely, and we work very hard to meet their expectations." Ms. Fico reports that as one of the most comprehensive and effective anti-poverty organizations in the state of New Jersey, Eva's Village receives high marks for efficiency, including a fifth consecutive Four-Star rating by Charity Navigator, indicating that Eva's Village "Exceeds industry standards and outperforms most charities in America" (Charity Navigator).
To learn more about Eva's Kitchen and all the programs at Eva's Village, or to donate or volunteer, visit http://www.evasvillage.org