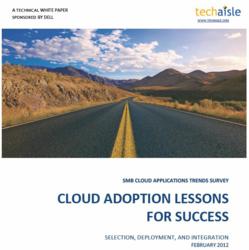 "As SMBs dive deeper into their options for utilizing multiple cloud business applications, they are quickly realizing the need to partner with a trusted cloud solutions vendor and develop a comprehensive, scalable plan for implementation."
(PRWEB) March 08, 2012
WHO:
Anurag Agrawal, CEO of Techaisle and veteran industry analyst focusing on the global SMB market and Travis Pillen, Business Analyst at Schoolwires, a Dell Cloud Business Applications customer.
WHAT:
Thinking about cloud applications? Want to make sure you do it right – choosing the right vendor, implementing them on time and in budget and maximizing business impact? There's a lot to manage for a successful cloud implementation —from vendor selection to technical details and integration.
Join for valuable insights and lessons from early adopters who have leveraged cloud applications to improve productivity, speed their time to market and even gain a competitive advantage. Anurag Agrawal, CEO of Techaisle and veteran industry analyst focusing on the global SMB market will share findings from a recent survey conducted with 400 IT and Business Executives who have already adopted cloud applications. He will be joined by Travis Pillen, Business Analyst at Schoolwires who will share his first-hand experiences with cloud applications.
Join the webinar and learn:

What types of applications are leading the wave in cloud adoption?
What are the tangible benefits companies have realized from cloud?
What are the key implementation lessons from early adopters?
How to maximize the value of new cloud applications through integration?
Improve your business performance and speed the time to value from cloud applications through a successful cloud implementation strategy leveraging tips and insights from early adopters.
Dell Cloud Business Applications will host a webinar with industry experts on developing a cloud-based CRM integration strategy that connects business processes and technology to create a nimble, customer-focused enterprise.
You'll learn:

Common integration points between cloud-based CRM and other business applications,
Best practice approaches for helping IT scale to serve the needs of multiple stakeholders
Real-world advice from IT leaders who have built successful integrations between their Salesforce CRM and other mission-critical applications
WHERE:
Register now -Dell Cloud Business Applications Webinar
WHEN:
Tuesday, March 13
11:00 a.m.-12:00 p.m. Pacific / 2:00 p.m. – 3:00 p.m. Eastern
SPONSOR:
Cloud Success: Lessons Learned From Early Adopters: Vendor Selection, Deployment & Integration is sponsored by Dell Cloud Business Applications (DCBA). DCBA is a new Dell solution that enables small and medium businesses to leverage the power of the cloud and take full advantage of Software-as-a-Service (SaaS) to drive outstanding business performance. This family of trusted cloud applications integrates with customers' existing software and gives them real-time business visibility and analytics – all backed by turnkey Dell services.