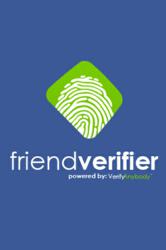 The Friend Verifier, free Facebook app is not only a tool to scan friends and pending friend requests, we also hope to raise awareness about personal safety on the Internet.
Fort Lauderdale, FL (PRWEB) March 09, 2012
In today's day and age, the internet can be a blessing and a curse. Verify Anybody, the leader in online verification, is proud to announce their launch of the first Facebook verification app ever, Friend Verifier.
The Friend Verifier app gives users the ability to scan their current friends as well as pending friend request against the national sex offender registry for free. Facebook has completely changed how we interact with each other on a daily basis and has become such an integral part of our life, that many of us could not imagine life without it.
Unfortunately, there are people who are convicted sex offenders utilizing social networks and dating sites on a daily basis for evil intentions. Verify Anybody knowing this has decided to develop Friend Verifier as a free app to not only give a tool to the masses but to also raise awareness about personal safety on the Internet.
Verify Anybody launches their Friend Verifier app as an open beta while they continue to develop new features and improving upon its search algorithms.
"I can't imagine life without Facebook and smart phones," said Joe Penora CEO and co-founder of Verify Anybody. "Unfortunately there are those who have used these great advances in technology as a way to find their next prey. Our goals behind the Friend Verifier app, is to be sort of a 'wing-man' for users and Facebook. Constantly improving upon our technology, making the easiest and most advanced tool available. Knowledge is power, and if we can help just one user make a better informed decision that could save their life, then this app is well worth it."
The Facebook app is now available on Facebook's website and can quickly be accessed via http://www.friendverifier.com