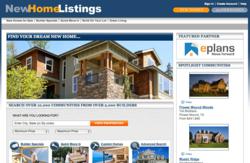 Being able to list communities for free on this new site is a huge opportunity for builders to showcase their homes and drive additional traffic to their website
Austin, TX (PRWEB) March 08, 2012
Hanley Wood, LLC, and Builder Homesite, Inc. (BHI) today announced the launch of the upgraded Hanley Wood website, NewHomeListings.com. The new site features enhanced search capabilities, robust rich media content, and improved lead capture functionality.
"We are excited to launch this new version of NewHomeListings.com and deliver a better home shopping experience for prospective buyers," said Andy Reid, President of eMedia and Market Intelligence, Hanley Wood. "Visitors now have expanded search options and will see homes come to life with larger images and dynamic video content."
BHI affiliate, Builders Digital Experience (BDX), developed the new website and now NewHomeListings.com is powered by BDX's leading new home listing platform. This is the same powerful new home search engine that is behind NewHome Source and Move New Homes, the #1 and #2 new home websites*.
Hanley Wood and BDX are offering builders the opportunity to list their communities for free on NewHomeListings.com. In addition, builders who currently list their communities with BDX will have their homes distributed to the NewHomeListings.com website at no additional charge.
"Being able to list communities for free on this new site is a huge opportunity for builders to showcase their homes and drive additional traffic to their website," said Melissa Morman, VP, Client Experience, BHI. "And these builders can also upgrade their digital marketing with the full BDX Bundle and have their homes listed on over 300 real estate websites reaching millions of new home shoppers each month."
The BDX Listings Plus Bundle is designed to ensure that builders can "List Once and Be Everywhere". In addition to NewHomeSource and Move New Homes, with BDX, a builder's listings are syndicated to over 300 partners across the Internet reaching over 40 million potential new home buyers each month*. Hanley Wood builders will be given opportunities to upgrade to the full BDX Bundle and gain this premium exposure across the Internet.
Builders who are interested in listing their homes and communities for free on NewHomeListings.com should visit http://www.thebdx.com/hw and to upgrade new home listings to the full BDX Bundle, builders can visit http://www.thebdx.com/upgrade.
*comScore September 2011
About Builder Homesite and Builders Digital Experience
Builder Homesite, Inc. was founded with a mission to bring homebuilding industry leaders together to develop world-class technology solutions. Builder Homesite is a consortium of 35 of the nation's largest homebuilders, and its flagship product is NewHomeSource.com, a consumer website offering the Internet's most comprehensive information and selection of new homes available.
Builder's Digital Experience, LLC (BDX) from Builder Homesite, Inc. and Move, Inc. (NASDAQ:MOVE) was founded in October 2009 to combine the industry's leading new home resources under one roof and offer builders innovative online marketing options, streamlined customer service and support, and greater value. Capitalizing on over 11 years of building industry experience, BDX includes the top two new home websites, NewHomeSource from Builder Homesite and Move New Homes. Additional services include video production, rich media rendering, mobile search, custom website production, connections to real estate professionals, and more. Together these online and interactive resources help builders create a true digital experience for their buyers. For more information, visit http://www.thebdx.com.
About Hanley Wood
Hanley Wood, LLC, is the premier media and information company serving the housing and commercial design and construction industries. Through its operating platforms, the company produces award-winning magazines and Web sites, marquee trade shows and events, market intelligence data and custom marketing solutions. The company also is North America's leading publisher of home plans.
###