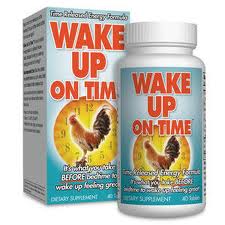 "This may be the greatest advance in waking up since coffee!"
Sparta, NJ (PRWEB) March 08, 2012
This Saturday marks the early onset of Spring- as Daylight Saving Time indicates we turn our clock hands one hour forward. While this may come as a joy for some, those who disdain mornings view it as a curse.
The supplement company Rise-N-Shine, has created Wake Up On Time, a revolutionary new pill to combat morning woes and groans.
Wake Up On Time is a proprietary blend of B vitamins, Amino Acids, Guarana Seed Extract and Siberian Ginseng that are geared to address the psychological and physical reasons why people have trouble getting out of bed in the morning. This supplement will never prevent people from falling asleep because it is specially formulated with a natural coating over the tablets to delay the release of the ingredients. This way it can dissolve over time and deliver its benefits when you need them most when the alarm clock rings.
"It's more than a vitamin, it's time in a bottle because, instead of hitting the snooze button over and over again, our exciting new product allows you bounce out of bed ready to go," said Cathy Beggan, founder of Rise-N-Shine and creator of this groundbreaking supplement. The product helps you to effortlessly wake right up in the morning feeling alert, happy and ready for anything your demanding schedule throws at you. It's just like an alarm clock inside of a pill. This supplement is good for you too. It boosts energy levels and immune systems, while elevating moods and enhancing metabolism. Wake Up On Time does have one important side effect…improved mood, singing in the shower and getting to work on time."
Wake Up On Time is available to order directly at http://www.wakeupontime.com.
Call Cathy Beggan for more information at 1-973-903-1127 or email: cathy(at)wakeupontime(dot)com
Rise-N-Shine, LLC was founded in 2006 by Cathy Beggan. A minority/woman owned business, Rise-N-Shine is continuously bringing groundbreaking products to the nutritional marketplace and was founded on the foreground of providing natural solutions to everyday problems.
Best selling products include:
"Wake Up On Time" ~ The only product of its kind in the world, taken BEFORE bed, it kicks in 6 to 8 hours later to wake you up in the morning feeling refreshed and full of energy; "GO AWAY GRAY Pills" ~ A natural pill containing Catalase, which prevents gray hair from starting and reverses existing gray hair. "Go Away Gray Shampoo & Conditioner," containing Catalase, is now available too; "Hair Re-Grow" ~ DHT Blocker that promotes hair growth; "Stay Up All Day" ~ An all natural, time released energy supplement formulated to give you energy for 8 hours; "Wrinkle Remedy" ~ Treats wrinkles from the inside out; "Blemish Blocker" ~ A natural formula to promote clear skin. "ReMINDER" ~ Improves memory, clarity and thinking; "Stress FREE" ~ Eliminate the symptoms of stress & anxiety; "Sleep Tight All Night" ~ Natural formulation to help you fall asleep fast and stay asleep all night long; "Light'n Up" ~Healthy Weight Loss supplement made with Acai; "Royal Flush" ~ Safe & effective digestive cleansing product; "Menopause Chill Pills" ~Eliminate the symptoms of menopause; "Get Healthy" ~ A MultiVitamin that has everything you need and more to be healthy and to feel great. "Rejuva-Joint"~ Advanced joint relief formula which improves flexibility and mobility; "Hangover Helper"~ An advanced formula to alleviate hangover symptoms; "Joint Restore Rx"~ Cherry flavored joint relief liquid; "Immune Shield"~ The ultimate defense in maintaining immunity; Our products are manufactured for safety in the United States of America in a world class, fully climate-controlled, 150,000 square foot FDA-inspected facility that ensures purity and accuracy of materials through inspection and evaluation at every step of production and packaging.