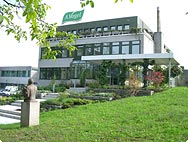 Bioforce is a rare company in the global herbal community
(PRWEB) March 09, 2012
Bioforce is very pleased to announce that the nonprofit American Botanical Council has chosen Bioforce AG as the recipient of its annual Varro E. Tyler Commercial Investment in Phytomedicinal Research Award. Bioforce AG is a Swiss herbal products manufacturer that spends 4% - 5% of its annual sales on pharmacological and clinical research each year, according to company sources.
"Bioforce is a rare company in the global herbal community," said ABC Founder and Executive Director Mark Blumenthal. "The company employs the highest quality levels of sustainable farming practices while embracing the rich traditions of European herbal medicine, combining it with modern scientific research. These concepts—sustainability, tradition, and research—are at the core of the company's ethics and practices. Bioforce's continued investment in research is consistent with Prof. Varro Tyler's wish that all herb companies dedicate a portion of their revenues to researching the mechanisms and/or the efficacy of their botanical products."
Bioforce has conducted at least 36 scientific studies on its products, the majority of which were published in scientific, peer-reviewed journals. Fourteen of these studies were carried out on its flagship product, Echinaforce®, an organic tincture of E. purpurea herb and root that is used to treat colds and flu. In 2006, an echinacea meta-analysis by Suter and fellow Bioforce AG scientist Roland Schoop was chosen as one of the top 25 research papers by the Annual Bibliography of Significant Advances in Dietary Supplement Research, published by the US National Institutes of Health Office of Dietary Supplements.
Additionally, according to Bioforce USA's President Pierce Sioussat, Bioforce's arnica gel was the first product to obtain a traditional herbal registration from the United Kingdom's Medicines and Healthcare products Regulatory Agency (MHRA), and of the approximate 120 registrations that MHRA has granted, about a quarter of them have been given to Bioforce products.
Bioforce AG's product integrity begins by honoring one of the most important philosophies of Swiss clinical herbalist Alfred Vogel, who founded the company in 1963: insisting that the plants used in its products are grown organically on its own farms or contract farms assessed for sustainability and approved by the company itself. According to Bioforce, the company also harvests at "ideal" times, uses high-quality seed varieties, allows the plants to sufficiently mature "until they reach optimum potential," and mixes harvest batches in order to ensure consistent efficacy. The company always uses the whole plant in its products—another of Vogel's most important founding philosophies—and processes the plants within 24 hours after harvest to guarantee a "full spectrum of all active ingredients." In addition, the World Health Organization recognizes Bioforce for producing its products according to pharmaceutical Good Manufacturing Practices (GMPs).
"Alfred Vogel viewed nature as his guide and practiced a holistic approach to the use of plants," said Sioussat of Bioforce USA. "[Vogel said,] 'Every substance contained in a plant has purpose and significance. They complement each other and act as a whole.' What makes Bioforce unique is that these are not hollow words, but rather a philosophy that we are not afraid to put to rigorous examination in the most demanding environments."
The Varro E. Tyler Commercial Investment in Phytomedicinal Research Award will be presented at the 7th Annual ABC Botanical Celebration and Awards Ceremony on March 8 in Anaheim, CA, as part of Nutracon 2012 conference and Natural Products Expo West trade show.
About Bioforce USA
Bioforce USA has created long-term strategic alliances with European manufacturers of product lines that have years of clinical research support for safety and efficacy, plus years of repeat consumer use. Bioforce USA has brought these lines, which include A. Vogel, Sanhelios, Herbatint, and SECURE exclusively to the United States for distribution through natural products and health food stores. For more information go to http://www.Bioforceusa.com or call Eileen Sheets at 800-641-7555 x100.