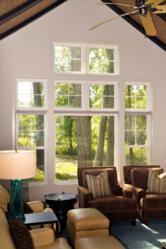 Meeting AAMA Gold Label Certification assures a homeowner of purchasing the highest standard of window available in the marketplace.
- Timothy J. Efaw
Simonton Windows
Columbus, Ohio (PRWEB) March 08, 2012
If you're considering buying replacement windows for your home, then you need to know four important letters: AAMA.
AAMA stands for "American Architectural Manufacturers Association." Why is this organization important to homeowners? Because for almost 50 years AAMA* has provided independent product performance information on windows and doors. And, the AAMA Certification Program is the only program in the window and door industry that requires components used in the finished window and door assembly to pass their own set of performance tests.
AAMA's comprehensive program requires the use of AAMA-accredited labs so that tests are performed by qualified, experienced third-party professionals using properly calibrated equipment. Add to that two unscheduled manufacturing plant inspections each year by AAMA officials and you have a sound program that provides confidence to consumers purchasing AAMA certified products.
"AAMA testing provides many benefits for consumers," says Timothy J. Efaw, testing team leader at Simonton Windows. "Since the testing is done to a specific industry standard, homeowners can evaluate products by comparing standardized testing results.
"Consumers should look for windows and doors that meet the AAMA tests for structural integrity that withstand wind loads. A key tip for consumers is to be suspicious of any window or door product that is not tested. This may mean that the units can't or won't perform to the minimum threshold of standards laid out by the AAMA program. That could be a big red flag when shopping for windows."
Efaw explains that there are various levels of AAMA testing, with the highest, most dependable level being AAMA's Gold Label Certification. "While some companies choose to participate in selective parts of the AAMA curriculum, Simonton Windows participates in every aspect of the stringent Gold Label Certification," says Efaw.
"This is the highest testing level possible from AAMA and ensures that all aspects of manufacturing, quality, training, component certification and overall product certification are in line with all documented AAMA standards. Meeting Gold Label Certification assures a homeowner of purchasing the highest standard of window available in the marketplace that has been rigorously tested according to AAMA requirements for structural strength and resistance to air leakage, water penetration and forced-entry."
What You Get with AAMA Gold Label Certification
In order to receive the AAMA Gold Label Certification, windows and doors must pass independent AAMA-accredited test lab requirements that meet these criteria:

Prescribed maximum level of air leakage through the assembled unit;
No water penetration through the unit at a specified simulated wind speed;
Prescribed levels of structural resistant to wind and other dynamic pressures;
Life cycle durability requirements as applicable based on the product's performance class designation;
Component performance verification to AAMA specifications
According to the Professional Builder 2012 Window Survey**, quality counts a great
deal when builders select the windows for their home projects. Energy efficiency and quality performance are the top two considerations when builders specify windows. Results of the January 2012 survey also indicate that nearly two-thirds of builder respondents said they offer energy-efficient, high-performance windows for their homes as standard practice.
"As a manufacturer, we use the required AAMA certified profiles and verified
components to meet AAMA standards," says Efaw. "We're also ready for our unannounced site visits each year and welcome the opportunity to showcase the manufacturing capabilities at our facilities."
Simonton also controls the quality of the vinyl in its products by extruding its own vinyl compound at SimEx, a vinyl extrusion company affiliated with Simonton Windows. Located in St. Marys, W. Va., the 24-hour SimEx operation supplies rigid vinyl window profiles to Simonton. The vinyl pieces are part of the AAMA verified components required by the AAMA Gold Label Program.
The experts at Simonton Windows offer several free consumer booklets on how to know when it's time to replace your windows, energy efficiency of windows and selecting windows for a new home. The company has also just introduced the new brochure, "Understanding Condensation in Your Home." Consumers may call 1-800-746-6686 to request free copies of these brochures or visit the company's website at http://www.simonton.com/Information/Tips/ for more information.
Simonton Windows produces ENERGY STAR® qualified replacement and new construction windows and doors, including a line of impact-resistant products. Simonton ranked "Highest in Customer Satisfaction with Windows and Doors, Two Years in a Row" in the J.D. Power and Associates 2010-2011 Windows and Patio Doors Satisfaction Studies SM.
Simonton was also ranked #1 in quality in the 2009, 2007, 2002 and 1998 Brand Use Studies sponsored by Builder magazine and has won three Best In Class Awards administered by LBM Journal Research Institute.
Founded in 1946, Simonton's hallmark has been to deliver the industry's shortest, most dependable lead-times. Part of Fortune Brand Home & Security (NYSE: FBHS), Simonton delivers award-recognized products nationwide to key markets throughout the 48 continental United States. Simonton is a founding sponsor of The Weather Museum and a supporter of Homes for Our Troops. For information, call (800) SIMONTON (1-800-746-6686) or visit http://www.simonton.com.
###
PHOTOGRAPHY: Media members may visit "media.simonton.com" (use password "media") for access to hundreds of high resolution images.
RELEASE: http://news.simonton.com/newsrelease-cid-1-id-80.html
SIMONTON ON-LINE NEWS ROOM: http://news.simonton.com/
Simonton Windows received the highest numerical score among window and door manufacturers in the proprietary J.D. Power and Associates 2010-2011 Windows and Patio Doors Satisfaction StudiesSM. 2011 study based on responses from 2,605 consumers measuring 11 brands and measures opinions of consumers who purchased new windows or patio doors in the previous 12 months. Proprietary study results are based on experiences and perceptions of consumers surveyed in March-April 2011. Your experiences may vary. Visit jdpower.com.
ENERGY STAR is a government program that helps consumers protect the environment through superior energy efficiency and is a registered trademark of the U.S. Department of Energy and the U.S. Environmental Protection Agency.
*AAMA is a trade association based in Schaumburg, Illinois. Simonton Windows is a paid member of AAMA. For details on AAMA, visit http://www.aamanet.org.
** For more information on the study, visit http://www.HousingZone.com/windowsurvey.