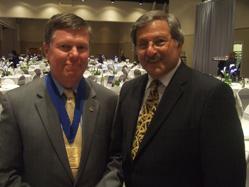 Saint Leo, Florida (PRWEB) March 09, 2012
Saint Leo University, one of the oldest Catholic universities in Florida, is proud to announce that University President Arthur F. Kirk, Jr., has been inducted into the 2012 Tampa Bay Business Hall of Fame.
Dr. Kirk is one of four highly recommended and proven business leaders from the six-county Tampa Bay area selected for the honor. The sponsor of this award, Florida Council on Economic Education, created the Hall of Fame 25 years ago to recognize individuals who have made significant contributions to the community through their business and civic achievements, and by serving as lifelong role models of integrity and high ideals. The 2012 honorees were inducted into the Tampa Bay Business Hall of Fame at an awards dinner held in Tampa on March 1.
During the event, Dr. Kirk said he felt "truly humbled and grateful" to be honored. He reflected on the examples provided by his late parents, and expressed deep appreciation for the support of his wife Beverly and their two grown children, Whitney Elizabeth and Arthur III, as well as for the assistance of trustees, friends, alumni, students, administrators, faculty, and employees.
The combined support of so many, Dr. Kirk said, demonstrates how many people are committed to the mission of Saint Leo University "to provide the opportunity for a special, values-based education that teaches ethics in every class for deserving students regardless of their color, creed, economic circumstances or vocation." And he suggested the need to pay thanks to the many Saint Leo military students and veterans, along with their fellow members of the Armed Forces, who serve "so that we can gather in freedom."
Dr. Kirk assumed the presidency of Saint Leo in January 1997, when the institution was still a college. Through his emphasis on mission, the university's core values, and disciplined planning, Saint Leo's enrollment has grown to approximately 16,000, and curricular offerings have been strengthened and expanded.
Dr. Kirk has shared his expertise with colleagues in higher education, and with the business sector, as well. He recently served as president of the Florida Association of Colleges and Universities, and serves on the Pasco County Economic Development Council Policy Board, the Tampa Hillsborough Economic Development Corporation Executive Committee, and the Board of Governors of the Greater Tampa Bay Chamber of Commerce. He speaks and writes regularly on strategic planning, technology in education, and leadership.
An avid athlete, Dr. Kirk was inducted into Saint Leo University's Athletic Hall of Fame in 2011.
About Saint Leo University
Saint Leo ranks as one of the top universities in the South, according to U.S. News & World Report's "America's Best Colleges" list. Saint Leo's traditional liberal arts campus, located 30 miles north of Tampa, educates more than 1,900 students. Total enrollment across its campus, continuing education centers, and online programs exceeds 15,000. Among the oldest Catholic universities in Florida, Saint Leo is one of the nation's 10 leading providers of higher education to the U.S. military, and is a nationally recognized leader in online education.