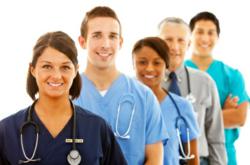 fiteBac Germical is free of many common mild irritants such as alcohol, water, and fragrances.
Marietta, GA (PRWEB) March 08, 2012
In the United States, occupational skin diseases amount to more than $1 billion dollars annually [1] and constitute up to 30% of all occupational diseases [2]. Studies have shown that a majority of these skin diseases are classified as irritants or contact dermatitis, although several other factors may also be involved [3]. Healthcare workers are considered to be high risk for the development of contact irritant dermatitis, which tends to be chronic in nature and characterized by redness, scaling, and chapping of the dorsal aspect of the hand, fingertips, and finger webs [4]. Repeated exposure to irritants, such as water, soaps, detergents, alcohols, antiseptics, and glove use [3], to achieve appropriate hand hygiene, can lead to the career-ending disease.
By following proper hand hygiene protocols that cause repeated exposure to irritants, healthcare professionals gradually decrease the natural moisturizers within the skin and breakdown the skin's moisture barrier. It leads to trans-epidermal water loss and inevitably dry, cracking skin. In some instances, the severity of the hand dermatitis has prevented healthcare workers from properly doing their daily tasks, leading to job termination.
The fiteBac Germicidal Hand Softening Gel is an innovative patent pending product especially formulated to strengthen the skin's natural moisture barrier, even after repeated exposure to irritants such as alcohol and water. fiteBac Hand Gel is hydrophobic. It does not allow moisture to penetrate helping keep skin soft. The gel is contrary. It is free of many common mild irritants such as alcohol, water, and fragrances. The patent pending gel has been clinically evaluated by infection control experts Dr. John A. Molinari and Peri Nelson of THE DENTAL ADVISOR, demonstrate its high efficacy in inhibiting bacteria applied to skin[5]. fiteBac Hand Gel has great potential to be the answer to saving $1 billion dollars in occupational disease.
About fiteBac™ SkinCare, LLC, and KHG:
fiteBac SkinCare, LLC, is a subsidiary company of Kimmerling Holdings Group, LLC ("KHG"), a Georgia-based biotech company that has developed an antimicrobial platform intellectual property technology. KHG was founded in 2009 by Kirk Kimmerling, DDS, Marietta dentist and Dan Kearney. The two set out to create products that would "change the world, one product at a time." Kirk and Dan first targeted bacterial issues in dentistry, knowing that solving those problems would lead to dramatic improvements in oral health and, more importantly, systemic bodily health. They engaged a team of highly accomplished chemists and scientists retired from Fortune 500 companies and researchers from major universities. In doing so, KHG has developed technology with several patents pending that has application well beyond dental materials. Exciting potentials in medical, plastic, composite, coating, and other applications are forthcoming. Additionally, other applications are in various stages of development. fiteBac SkinCare Hand Softening Gel is the first product to be released under the fiteBac brand name. To learn more about fiteBac SkinCare Germicidal Hand Softening Gel, watch our fiteBac SkinCare video.
References
1. World Health Organization, European Academy of Dermatology and Venereology. Occupational Skin Diseases Global Workshop Summary Report, February 2011.
2. Diepgen, T.L., Kanerva, L. Occupational Skin Diseases. Skin Diseases in Europe. 2005.
3. Mahler, Vera. Skin Protection in the Healthcare Setting, Current Problems in Dermatology, Volume 34, 2007.
4. Bikowski, Joseph. Hand Eczema: Diagnosis and Management. Cutis, Cutaneous Medicine for the Practitioner, Vol. 82 No. 4S, October 2008.
5. Molinari, John A., Nelson, Peri. fiteBac Hand Gel Germicidal Hand Gel Study, The Dental Advisor, Number 43, February 2012.