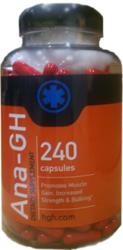 We're always on the leading edge of Human Growth Hormone and Bodybuilding Supplements...creating the best bodybuilding pills available.
Boonton, NJ (PRWEB) March 28, 2012
HGH.com is always creating the newest bodybuilding and anti-aging formulas as new advances in science and technology present themselves, and in this case it's no different.
Taking one of their existing bodybuilding and muscle growth supplements (Anadral), HGH.com revisited the complex structure of ingredients to remake and add a so many more bodybuilding and muscle growth factors – and best of all – they continue to do it all in a bodybuilding pill!
Because their formula is so strong, they weren't able to get one serving size in a pill. In fact, they needed 8 pills! When asked, HGH.com said, "We're always on the leading edge of Human Growth Hormone and Bodybuilding Supplements and trying to create the best bodybuilding pills. We try to stay away from powders because too many people get bloated and reduced appetites from powders – our customers are always asking for pills – they're simply easier in every way for our customers and therefore we're always trying to create muscle growth supplements in pill form. We outlined this formula with our chemists and scientists and didn't want to lose anything in the formula, so we decided to still keep it as a pill… although a powder may have made more sense; a pill is still easier to take, doesn't cause bloating and won't ruin your appetite. We're so confident and so excited about this new formula and know it will revolutionize other bodybuilding supplements."
The new Ana-GH (Ana short for Anadral and "GH" short for Growth Hormone" is a hot red pill in a cool clear bottle. HGH.com recommends taking 8 pills per day, spaced out any which way you choose.
The ingredients include (and are not limited to) 1,500 mg of an amino acid called "L-Leucine", which on its own merit has the capacity to stimulate muscle and protein synthesis and slow the degradation of muscle tissue by increasing the synthesis of muscle proteins. In fact, it's the only amino acid that has that capacity.
The new bodybulding pill also includes "L-Arginine", which is a common amino acid that helps in the healing of wounds, improves immune function, and the release of hormones.
Ana-GH also has many other ingredients and a proprietary blend sure to keep the bodybuilder who uses it coming back for more. Just last year HGH.com created Clen XDV, which was an instant success for people using it to burn fat and build lean muscle. No doubt that Ana-GH will also follow in that success. This new muscle growth pill will sell for $179.99 per month, which is surprisingly less expensive than the HGH.com Anadral seeing as how ANA-GH is more costly for them to produce. You can enjoy free shipping on HGH.com temporarily and start your muscle growth today as ANA-GH was just released.