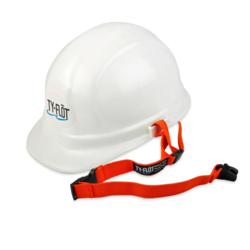 "It's common knowledge that if something isn't comfortable, people will resist using it. By creating a safety tool that is comfortable, clean, and by offering a number of options we can ensure that workers use their safety equipment and use it properly."
Manchester, NH (PRWEB) March 08, 2012
In a preemptive attempt to meet industry demand for a newly issued patent, Manchester, NH based safety company Ty-Flot, Inc. has released three new versions of the hard hat lanyard; a safety device meant to prevent a hard hat from falling. These versions include an EZ clean laminated version to reduce nuclear waste in the nuclear industry, a metal-free version to protect expensive equipment such as aircraft engines, nuclear fuel, or steam turbines from foreign material damage, and a harness style for workers using fall protection with their standard personal protective equipment.
"As a continued commitment to helping our nuclear clients achieve zero fuel failures we have voluntarily produced a completely metal free hard hat lanyard option." –Darrell Moreau, Ty-Flot GM, Co-founder
The Hard-Hat Lanyard (U.S. Patent # 8,117,678) represents another in a growing list of patented safety products by Ty-Flot used in nuclear power, fossil generation, oil and gas rigs, aviation, and overhead construction. Professionals working at height use the hard hat lanyard as an alternative to a chin strap because the lanyard keeps the hard hat secured but is attached in a way that it doesn't touch the user's skin. Market studies have shown that workers prefer a comfortable safety device like the hard hat lanyard over the chin strap.
"It's common knowledge that if something isn't comfortable, people will resist using it. By creating a safety tool that is comfortable, clean, and by offering a number of options we can ensure that workers use their safety equipment and use it properly." – Matt Moreau, Ty-Flot Strategic Business Development Manager
Any company taking steps to enhance its safety program should talk to Ty-Flot. The company is giving away free samples for evaluation to those who qualify. You can contact Ty-Flot to learn more now.