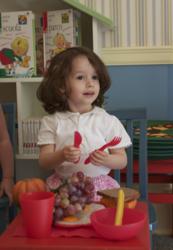 Central to our work is the rich intellectual and literary traditions of Russia, and the importance of these traditions for studying issues of national identity
New York, NY (PRWEB) March 08, 2012
The Carousel of Languages, Manhattan's premier early childhood foreign language program, announces the introduction of a Russian language program for children 6 months to 5 years of age.
The new language offering was created in response to the increasing number of Russian families who are committed to maintaining and teaching their language and deep cultural heritage as they raise their young children in New York City.
The Russian language program builds the foundation for language fluency and mastery of both native and non-native students. Native Russian teachers work closely to develop a comprehensive curriculum that integrates the Russian language and culture into the proven Carousel Teaching System. Students will be immersed in the Russian heritage and culture of children's poetry, folklore, and music.
"Our instructors all share a passion and commitment to teaching their language, traditions and culture to new generations," said Carousel of Languages Founder Patrizia Saraceni Corman.
"Central to our work is the rich intellectual and literary traditions of Russia, and the importance of these traditions for studying issues of national identity," said Svetlana Kutuzov, PhD, Head Russian Teacher.
The Carousel Teaching System is an exclusive and comprehensive teaching tool based on a distinct methodology of verbal, visual and tactile association embracing both early childhood learning standards and cultural exposure. The program is designed to develop and enrich conversation proficiency, comprehension and critical thinking.
Age and level appropriate classes are grouped to ensure structured, fun and stimulating lessons that easily progress to higher levels of learning. Traditional fairytales, poetry and music create the cultural foundation of each class, while early childhood themes provide the learning standards for school preparation.
The Carousel of Languages is located on the East Side at 1300 Madison Ave. (between 92-93rd Streets), and on the West Side at 144 West 72nd St. (between Amsterdam & Columbus Ave).
-- The Carousel of Languages LLC --
Established in 2000, the foundation of The Carousel of Languages is the educational advantage and intellectual stimulation gained through early exposure to a foreign language. Research shows that exposure to more than one language accelerates brain development and enhances children's overall mental development, including their creative thinking skills and math abilities.