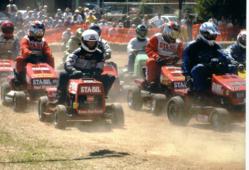 There's no place for bounties in lawn mower racing."
- U.S. Lawn Mower Racing Association Founder and President Bruce Kaufman, "Mr. Mow It All."
Northbrook, IL (PRWEB) March 08, 2012
As the NFL bounty scandal continues to unfold, Turf Titans of the STA-BIL Lawn and Garden Mower Racing Series continue to race for just trophies, lemonade and bragging rights, with not a hint of a bounty or scandal, even after 20 years of cutting edge competition.
"We're a family of racers who compete fair and square, a real slice of Americana, featuring American ingenuity and true-blue sportsmanship. There's no place for bounties in the STA-BIL Lawn and Garden Mower Racing Series," said U.S. Lawn Mower Racing Association Founder and President Bruce Kaufman, "Mr. Mow It All." "Well, we're 'virtually' scandal-free," Kaufman added. "I'm still trying to find the racer who stole my beer at the driver's party after the 1998 STA-BIL Nationals in Rockford, Illinois. Rumor has it either Sodzilla or Mudweiser is the culprit."
Founded on April Fool's Day 1992 in conjunction with Title Sponsor STA-BIL Fuel Stabilizer, the USLMRA, is celebrating its 20th Anniversary in 2012 and will announce a series of special events and festivities on its 20th birthday, April 1, 2012.
The U.S. Lawn Mower Racing Association sanctions and presents organized lawn mower racing across America including the 20-race STA-BIL Lawn and Garden Mower Racing Series, a U.S. Open National Series, Local Traveling Chapters and Home Track Affiliated Clubs, hosting 140 events each year.
The USLMRA is the nation's oldest and largest National Lawn Mower Racing Sanctioning Body with more than 800 racers nationwide. Lawn mowers race in several road course classes with all cutting blades removed at speeds from 10-60 mph. Racers compete for trophies, points and bragging rights, never for purse money. The annual STA-BIL Keeps Gas Fresh Finals national championship is televised on Fox Sports Net "Race Freaks" USLMRA sponsors include STA-BIL Fuel Stabilizer, http://www.goldeagle.com, HEET GasLine Antifreeze, Diesel Power!,104+ Octane Boost, No Leak, Alumaseal, Start Your Engines!, K&N Filters and Gnomefrenzy.com. For mow info please visit http://www.letsmow.com.
2012 STA-BIL Lawn & Garden Mower Racing Series and U.S. Open Events
April 28, McDonough, GA
Windy Hill Mower Speedway, STA-BIL Southern Shoot Out
May 19, Oil City, LA
Gusher Days, STA-BIL Gusher Days Mow Down Show Down
June 2-3, Superior, WI
U.S. Cure Mower Cancer Open
June 9, Englewood, TN
STA-BIL Volunteer State Mow Down
June 23, Zion, IL
Nostalgia Days, STA-BIL Land of Lincoln Nationals
July 4-5, Estacada, OR
4th of July Festival, STA-BIL Pacific Coast Summer Nationals
July 21-22, Sparta, MI
Huntington's Disease Race For Research, STA-BIL Great Lakes Summer Nationals
July 28-29, Carlisle, Iowa
River Bottom Raceway STA-BIL America's Heartland Nationals
August 3-4, Clements, MD
Bowles Farms, STA-BIL Bowles Farms Turf Battle,
August 11-12, Vestaburg, MI
U.S. Open V-Twin Shootout, Vestaburg Speedway
August 18, Greensburg, PA
Westmoreland Fair, STA-BIL Northeast Summer Nationals
September 1, Delaware County Fairgrounds, Delaware, OH
20th Anniversary STA-BIL Keeps Gas Fresh Finals
Sept. 2, 3rd Annual U.S. Open (Finals), Delaware, OH
Delaware County Fairgrounds, Delaware, MOWhio
Nov. 3-4, Stevenson, AL
Sam Rogers U.S. All American Open
About Gold Eagle Co., makers of STA-BIL Fuel Stabilizer
For 80 years, Gold Eagle® Co. has been an industry pioneer in the production and distribution of aftermarket fluids and additives, creating products that help preserve, protect and enhance the performance of engines everywhere. Gold Eagle® Co is a leader in the product development, manufacturing, marketing, and distribution of branded engine performance and maintenance chemicals. Privately held and headquartered in Chicago, Gold Eagle Co. is the manufacturer of leading brands, including STA-BIL® Fuel Stabilizer, HEET® Gas-Line Antifreeze, NO-LEAK® Treatments, 104+® Octane Boost, Start Your Engines® and DieselPower!® Diesel Additives. To view a complete line of Gold Eagle products or learn more about the Company, please visit http://www.goldeagle.com.