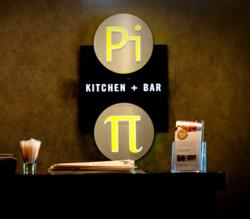 Denver, Colorado (PRWEB) March 12, 2012
Pi Kitchen + Bar restaurant, located in the Hiton Garden Inn Hotel Denver Downt own across from the Denver Convention Center, offers a unique blend of drinks and entree's to satisfy even the most picky palate. Our menu features an eclectic mix of the best local and global cuisine to create a unique fusion that can't be found elsewhere. Join us for breakfast, lunch dinner or happy hour beginning at 3:14 pm Monday-Friday and be impressed with the contemporary décor and innovative menu.
Greg Cook earned his degree in 2005 from the Le Cordon Bleu College of Culinary Arts in Las Vegas, Nevada. Chef Greg's passion for food and creative interpretation & presentation began early in life while just in middle school. Following that pattern, he held a kitchen supervisor position at the Crystal Palace Billiards in Las Vegas before entering the Culinary Arts program at Le Cordon Bleu. While finishing his degree Chef Greg was Sous Chef for the Hyatt Regency Lake Las Vegas overseeing, Japengo, the hotel's fine dining restaurant offering classic Pacific Rim delicacies & Asian fusion selections. His talent led him to a transfer to the Hyatt Regency Savannah, where as Sous Chef, he was responsible for the daily operations of Windows Chop House, the hotel's signature restaurant and the place where Steak & Seafood took on the southern flair. Additional responsibilities for the hotel included the 33, 000 sq. ft. banquet operation.
After three years with Hyatt Hotels & Resorts, Chef Greg was lured by the Augusta Marriott for the Chef de Cuisine position at Augustino's - Prime Steaks & Italian Eatery. Family circumstances soon called him home to Las Vegas and the Mirage Resort & Casino's Kokomo's as Specialty Room Chef. Kokomo's atmosphere is a tropical rainforest setting featuring prime steaks & fresh seafood surrounded by waterfalls and a sparkling lagoon. Within a year he was appointed as Executive Chef of BLT Burger, located at the Mirage, to open the new concept Restaurant for "Bistro Laurent Tourondel". The much acclaimed Chef Tourondel directed the transition in the BLT Burger concept and the opening of the hip and casual setting that showcased the ritual of grilling through the glazed red brick tile surrounding the open grill at BLT Burger. Fresh and fun, Las Vegas style, was integrated into all of the menu options.
In 2010 Chef Greg returned to Hyatt as Sous Chef at the Hyatt Regency Colorado Convention Center, in Denver, to initially oversee the Banquet area and ultimately in house dining establishments. His exceptional experience is a perfect complement for his most recent undertaking as Executive Chef at the Hilton Garden Inn Denver Downtown & Pi Kitchen + Bar, located directly across the street from the Hyatt Regency. All dining & banquet offerings are developed + executed exclusively by Pi throughout the hotel.