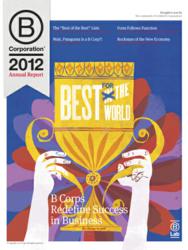 Boulder, CO (PRWEB) March 08, 2012
Boulder, CO: Namasté Solar has been recognized as Best for the World in a list of businesses creating the most overall positive social and environmental impact. With a composite B Score of 141.5 points, Namasté Solar earned a place in the top 10% of all Certified B Corporations and, on average, a 50% higher than average score of nearly 2,000 other sustainable businesses that have completed the B Impact Assessment.
"We genuinely appreciate receiving this exceptional recognition for our unique company model and impacts. We firmly believe there is a better way to do business and are honored to be an ongoing part of the B Corporation family." said Heather Leanne Nangle, Co-Owner/Director of Marketing, Communications, & Social Responsibility at Namasté Solar.
The B Impact Assessment, governed by the nonprofit B Lab, is the most rigorous, comprehensive, and comparable independent assessment of overall corporate impact and shows the relative value businesses create for society by comparing nearly 200 individual metrics on corporate impact on workers, consumers, suppliers, community and the environment.
"Namasté Solar is a leader in the global movement to redefine success in business," said Jay Coen Gilbert, co founder of B Lab, the organization that certifies B Corporations. "Namasté Solar is among the best in the world at being the Best for the World."
The 'Best for the World' list appears in the 2012 B Corp Annual Report published today by B Lab:
http://www.bcorporation.net/resources/bcorp/documents/BcorpAP2012_Web-Version.pdf
Learn more about how Namasté Solar creates positive social and environmental impact at http://www.bcorporation.net/namastesolar
About Namasté Solar:
As the leading solar company in Colorado, Namasté Solar has installed more than 1500 PV systems totaling over 10 megawatts since 2005. Its innovative business model includes employee ownership, democratic decision‐making, community collaboration, a unique solar grant program, zero‐waste initiatives, educational outreach, and holistic profit measurement. Namaste Solar.com
About B Lab:
B Lab is a nonprofit organization dedicated to building a new sector of the economy that uses the power of business to solve social and environmental problems. B Lab drives systemic change through three interrelated initiatives: 1) building a community of Certified B Corporations to make it easier for all of us to tell the difference between "good companies" and just good marketing; 2) driving capital to impact investments through use of GIIRS Ratings and Analytics; and 3) advancing supportive public policies to accelerate growth of social entrepreneurship and impact investing. BCorporation.net
####