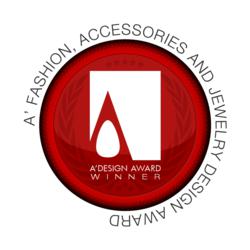 Both Realized, Prototype and Concept Stage Works Can Be Submitted to A' Design Awards' Runway.
Como / Italy (PRWEB) March 08, 2012
Today, A' Design Award and Competitions announced its call for submissions for the Fashion, Accessories and Jewelry Design Award, to promote and inspire fashion professionals worldwide.
The competition is open to submissions of stylish creations, garments, fashion accessories and innovative jewelry designs by global designers. Talents, who wish to highlight their name, are especially invited to take part in the competition by submitting visuals of their works through adesignaward.com
Best works will be selected according to design form, functional and emotional aspects of the work, degree of innovation, aesthetic qualities, craftsmanship, social responsibility and ergonomics.
A' Design Awards, with its highly qualified jury, composed of representatives from the leading design centers, universities and design oriented businesses worldwide, aims to create dissemination opportunities for winners through publicity and broadcasting over an array of mediums. Winning designers will be exhibited, get included in the award yearbook, and will further be featured at the award winners' gala night, and in addition will receive a complimentary public relations campaign for their award winning design.
The mission of the A' Design Award and Competition is to provide a fair, ethical and competitive platform for companies, designers and artists from diverse backgrounds to compete on, while providing them a global audience to showcase their success and talents to. The A' Award and Competition aims to act as blender; to bring together designers, companies and the press.
A' Design Award is organized in many diverse categories therefore the prospective winners of the A' Design Award can expect to reach an audience that is wider than their own niche: the award not only reaches the specific media in fashion industry, but more importantly, it reaches a wider, design oriented public such as managers and executive officers of other brands.
Unlike any other international juried design awards, winners are not obliged to make any further payments for winning the award and each of the services listed in the winners benefits page at adesignaward.com will be provided free of charge, with a single-time nomination fee of 375 Euros.
About the A' Design Award: The A' Design Award & Competition is an annual international juried design competition organized in a wide-range of categories, A' Design Awards aim to highlight and advocate good designs through promotion and dissemination of award winners. For more information, previous award winners, eligibility criteria and submissions visit: http://www.whatisadesignaward.com