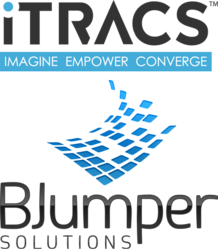 The smart data center combines the best of both worlds from iTRACS and BJumper to facilitate the shift from IT-centric infrastructure to business services-centric infrastructure
Chicago, Illinois (PRWEB) March 08, 2012
iTRACS Corporation, Inc., the leading provider of enterprise-class Data Center Infrastructure Management solutions that drive efficiency and business value in the data center, and BJumper Solutions, a technology leader specializing in energy efficiency and data center operations, recently introduced strategies for building "the smart data center" to an exclusive gathering of European data center owners and operators. More than 40 senior executives attended the February 28, 2012 Smart Technologies forum and customer roundtable held in BJumper's Madrid corporate headquarters. BJumper is a world-class systems integrator providing specialized design, engineering, and implementation services for data center technologies including the iTRACS Converged Physical Infrastructure Management™ (CPIM™) software portfolio.
"The smart data center combines the best of both worlds from iTRACS and BJumper to facilitate the shift from IT-centric infrastructure to business services-centric infrastructure," said Elizabeth Given, President and CEO of iTRACS. "Today's data centers are transitioning to a services-centric model that leverages composite services to meet the needs of the business, rather than the older IT-centric model that requires specific physical assets to provide specific solutions. Managing this transition efficiently requires automated DCIM workflows, Interactive 3D Visualization with a real-time 3D model of the data center, and a host of relational intelligence and operational tools. BJumper's expertise in unleashing the full potential of iTRACS CPIM™ is putting intelligent decision-making – the ability to use robust, context-rich information to drive efficiency – at the fingertips of Europe's data center owners and operators."
"The smart data center is about the sharing of key information across IT, Facilities, and Building Management Systems using a single point of management that everyone can easily understand and use, along with decision-support tools to drive successful business outcomes," said Jose Barbero, General Manager of BJumper. "iTRACS sits at the center of this environment, providing a rich understanding of the data center and all of its complex interrelationships. Our vision of the smart data center was well received by attendees at our event. It was illuminating to talk candidly with some of Europe's top IT executives about their challenges and how the BJumper and iTRACS partnership can help solve them."
BJumper's Smart Technologies forum also featured presentations by two other iTRACS partners, Intel and CA Technologies, whose expertise in energy efficiency and sustainability are broadening the reach and impact of the smart data center. "Energy efficiency is key to cost containment and the efficient use of physical resources," said Mr. Barbero. "BJumper and iTRACS are working with partners like Intel and CA Technologies to create new opportunities to drive energy consumption out of the operation – opportunities that were previously unachievable."
About iTRACS
iTRACS is the leading provider of enterprise-class Data Center Infrastructure Management (DCIM) solutions that drive efficiency, performance, cost savings, and strategic value in the data center.
iTRACS' best-in-class portfolio, Converged Physical Infrastructure Management™ (CPIM™), features the world's first and only holistic view of the data center using an interactive, navigable 3D environment. Interactive 3D Visualization – The Efficiency Engine™ is at the heart of the CPIM™ solution, unleashing new opportunities to create efficiency and business value in the design, management, and optimization of IT physical infrastructure.
Today, CPIM™ with Interactive 3D Visualization is being globally deployed in some of the world's most complex data centers and IT infrastructures, including four of the seven industry-recognized global leaders in data center design and management. iTRACS is helping these organizations drive efficiency and optimize asset performance. Reduce costs. Leverage cloud, SaaS, and other game-changing technologies. Manage change. Minimize risk. And optimize the business value of the entire physical infrastructure investment. iTRACS is proud to be named a 2011 Gartner Cool Vendor in DCIM, and named an IDC Major Player in DCIM in the IDC MarketScape: Worldwide DCIM 2011 Vendor Analysis report.
About BJumper
BJumper Solutions is a technology company based in Madrid with an international outlook aimed at providing specialized solutions and high value differential services in the area of telecommunications, information technology, and energy efficiency. Knowledge management, continuous improvement, technological awareness, and seamless integration with our clients are the cornerstones of our activity. Our expertise encompasses Smart Telecom – engineering, design, deployment and maintenance of telecommunications networks; Smart Data Center – engineering, design, implementation and operation of Data Centers; and Smart IT Energy – engineering, design, implementation, and managed services.