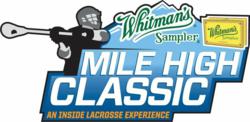 Kansas City, MO (PRWEB) March 08, 2012
As part of their 100 year celebration, the Whitman's® Sampler®, America's best-selling box of chocolates, is the title sponsor of the Mile High Classic, a premiere college lacrosse event organized by Inside Lacrosse. Fresh for 2012, the Whitman's® Sampler® Mile High Classic will be played in prime-time on Friday, April 27, 2012 at Sports Authority Field at Mile High, home of the NFL's Denver Broncos and MLL's Denver Outlaws. The event will feature a doubleheader of college lacrosse action:
5:30 pm (MT) – No. 1 Virginia vs No. 16 Penn (ESPN3)
8:00 pm (MT) – No. 2 Duke vs No. 5 Denver (ESPNU)
"Whitman's® and the Whitman's® Sampler® are thrilled to start a relationship with the great game of lacrosse," said John O'Hara, Vice President of Marketing, Whitman's® Candies. "We are a family owned business and not only do we love to watch the game, but we have children who currently play lacrosse at the grade school and high school levels. Lacrosse is in our blood and we are passionate about it. We look forward to the Whitman's® Sampler® Mile High Classic. Go Lacrosse and Go Sampler®!"
The Whitman's® Sampler® Mile High Classic promises a highly-charged night of college lacrosse that could serve as a preview for a future NCAA Championship event to be held in Denver – or anywhere for that matter. This lineup includes four participants from the 2011 NCAA Tournament, three of whom advanced to the semifinals (Denver, Duke and Virginia) including the defending national champions (Virginia). Virginia enters the 2012 season ranked No. 1 in the Nike/Inside Lacrosse Preseason Media Poll, while Duke follows at No. 2, Denver at No. 5 and Penn at No. 16.
Inside Lacrosse has established the standard for the promotion of lacrosse with its event properties. These events have brought unprecedented excitement and fan interest to college lacrosse's regular season. Inside Lacrosse has drawn more than 200,000 fans to its 10 events, including 42,172 fans to two events in 2011.
"Inside Lacrosse is excited to team up with Whitman's® Sampler®," Bob Carpenter, Publisher of Inside Lacrosse Magazine said. "For the past six years, Inside Lacrosse has been committed to creating memorable fan experiences with our event properties. Pairing the iconic brand name of Whitman's® Sampler® with our latest event property is opportunity not only for Inside Lacrosse, but the sport as a whole. For literally a century, the success of the Whitman's® Sampler® brand has been built on family tradition and a commitment to providing each consumer with an exceptional experience. These qualities are a perfect fit for how Inside Lacrosse presents these signature events to our audience."
Tickets On Sale Now for the Whitman's® Sampler® Mile High Classic
Tickets for the 2012 Whitman's® Sampler® Mile High Classic are currently on sale. Seating will be reserved for the prime locations at Sports Authority Field at Mile High. Fans are encouraged to make their plans early to secure the best seats.
Ticket prices are: $40 for The Corral (on-field seating); $35 for VIP (First Four Rows); $35 for Premium Midfield; $25 for Sideline Reserved; and $15 General Admission seating behind the cage. Parking can be purchased on game day for $10. A limited number of Field Suites, with seating for a minimum of 10 people, are also available starting at $500. Fans interested in learning more about Field Suites should call 303-OUTLAWS (303-688-5297).
To purchase tickets, call Ticketmaster at 800-745-3000 or log on to Ticketmaster.com. Fans interested in saving on group ticket purchases of 10 or more should call 303-OUTLAWS (303-688-5297). Lacrosse fans can also go online to MileHighLaxClassic.com to find out the latest information regarding the event.
Sweet Suite Sweepstakes
Whitman's® Sampler® is making it possible for lacrosse fans to attend the event in grand fashion through its Sweet Suite Sweepstakes promotion. One lucky lacrosse fan will receive 20 tickets and the use of a private suite for the evening at the Whitman's® Sampler® Mile High Classic. You can have the best seats in the house, along with an unbelievable fan experience, thanks to Whitman's® Sampler®. To learn more about the Sweet Suite Sweepstakes, go the Whitman's® Sampler® page on Facebook and enter to win.
About Whitman's Candies
Celebrating its 170th anniversary in 2012, Whitman's Candies is America's oldest continuous producer of boxed chocolates. Whitman's began in 1842 when 19-year-old Stephen F. Whitman set up a small confectionery and fruit shop on the Philadelphia waterfront. The Whitman's Sampler is among many boxed chocolate masterpieces produced by Whitman's over the years. Today, Whitman's chocolates and confections are manufactured at factories located in Abilene, Kansas, Iola, Kansas, Montrose, Colorado, and Corsicana, Texas. Whitman's. Made in America since 1842.
About Inside Lacrosse
Inside Lacrosse is the premier media outlet for the sport of lacrosse, covering print (Inside Lacrosse Magazine, Face-Off Yearbook), online (InsideLacrosse.com, LacrosseForums.com, ILIndoor.com,Wingszone.com/nllmb), video (ILTelevision.com and "Inside Lacrosse on ESPN") and events (Konica Minolta Face-Off Classic, Konica Minolta Big City Classic, Whitman's® Sampler® Mile High Classic). IL is the online partner of ESPN.com