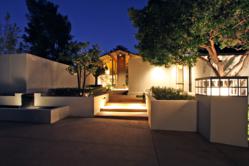 An ultimate example of the Purity, Harmony, and Elegance of A. Quincy Jones' architecture... - Markus Canter, ST JAMES + CANTER
Los Angeles, CA (PRWEB) March 07, 2012
Today, Luxury Real Estate duo, Cristie St. James and Markus Canter of ST JAMES + CANTER at Prudential CA Realty Beverly Hills, announced the new listing of a coveted A. Quincy Jones designed home located in a prime Beverly Hills location. A. Quincy Jones was a Los Angeles-based architect known for his innovate, modernist designs which have become staples in Palm Springs, Palo Alto, Bel Air, Beverly Hills and other prominent areas of Southern California. More recently, actress, Jennifer Anniston purchased an A. Quincy Jones designed Bel Air mansion and vineyard for $20.97 million.
Listing agent, Markus Canter describes the Beverly Hills residence as "an ultimate example of the Purity, Harmony, and Elegance of A. Quincy Jones' architecture and the mastery of his use of natural light, design, space, and environment.". The Beverly Hills estate, located on more than 35,000 sq ft of lot, is hidden away from the public eye with the home located up a long, private, gated driveway. Outside the home rests the tranquil entry courtyard and sparkling water fountain. Upon entering the the dynamic Post-And-Beam, modernist residence, you will be pleasantly surprised by the massive large-scale open floor plan with dramatic 18'' soaring ceilings, sunken living room, and walls of glass that look out to the park-like manicured, landscaped grounds and pool. With five bedrooms, five bathrooms, and a three car garage this Architectural Digest Quality Home is a once in a lifetime opportunity. The 5,200 sq ft Beverly Hills residence (920 Foothill DR. Beverly Hills, CA 90210) is listed at $6,499,000. More information about this property can be found at http://www.920foothilldrive.com.
About ST JAMES + CANTER
ST JAMES + CANTER is one of the most significant top producing luxury residential real estate teams in Los Angeles consistently ranked among the top 1% in annual gross sales nationwide. With nearly 25 years of experience and extensive knowledge, they have gained the reputation of being among the elite leaders in the representation of Buyers and Sellers of Luxury Estates, Architectural Properties, and High-End Luxury Condominiums in Los Angeles specializing in Beverly Hills, Bel Air, Sunset Strip, West Hollywood, & Hollywood Hills.